The best way of keeping all the ingredients from vegetables is eating them raw. However, carrot is one of rare vegetables that gets more nutritious when cooked! Carrot juice is rich in beta carotene, vitamins A & B and is great for you immune system and eyesight! Try our Warm Spicy Apple & Carrot Drink and you'll see that "tasty" often equals "healthy"!
Ingredients
2 cups apple juice, around 6 apples
1 cinnamon stick
2 star anises
2 allspice seeds
1/2 tsp cardamom seeds
1 sprig fresh rosemary
2 carrots
1 inch (2,5 cm) fresh ginger or more to taste
1/2 tsp ground cinnamon
1/2 tsp ground nutmeg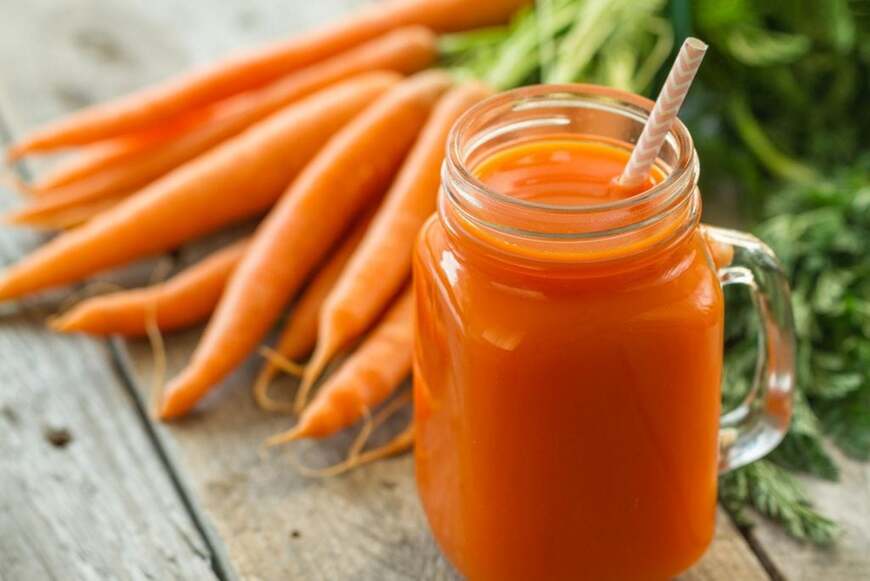 Instructions
Juice the apples in a juice machine. Place the juice in saucepan together with all the spices, cover with a lid. Bring to a boil and let simmer for 1-2 minutes. Turn off the heat and let steep, covered for 5-10 minutes, then strain in a fine sieve. Juice the carrots and ginger in the juice machine. Pour the warm apple juice in the glasses, add the freshly juiced carrot juice and stir with a spoon to combine. Sprinkle some ground cinnamon and nutmeg on top before serving.
Ps. If you are up for it you can also turn it into a winter punch, by simply adding 1 part rum to 3 parts juice.
Nutritional Info
Want more of veggies in your daily menus? Try this recipe: