Fall apart beef & tender vegetables – that's what you'll get by using a slow cooker. Try this slow-cooked red wine beef stew, and I promise you won't regret!
I am not a big fan of red wine, but boy do beef turns soft & flavory cooked in it! If you are a fan of a more "fatty" flavor, you can alter the recipe and use oxtails, like I did here. But have in mind it will take longer to cook (oxtails tend to be on the bony & fatty side).
Ingredients
3 pound beef chuck roast
Kosher salt (Diamond brand)
3 tablespoons extra-virgin olive oil
three shallots, finely chopped
2 tablespoons all-purpose flour
1 tablespoon tomato paste
4 whole garlic cloves, peeled
Black peppercorns in a peppermill
one and a half cups hearty red wine, such as syrah, merlot or Cotes-du-Rhone
1 – 2 cups beef or chicken broth or water
2 bay leaves and 4 sprigs each thyme and rosemary, tied into a bundle with string
two large carrots, peeled and sliced into 1-inch chunks
1 cup chopped leeks
one fennel bulb, stems and tough outer layers trimmed, sliced into 1/2-inch wedges
1 tablespoon extra-virgin olive oil
Chopped fresh Italian parsley
Grated fresh orange zest (optional)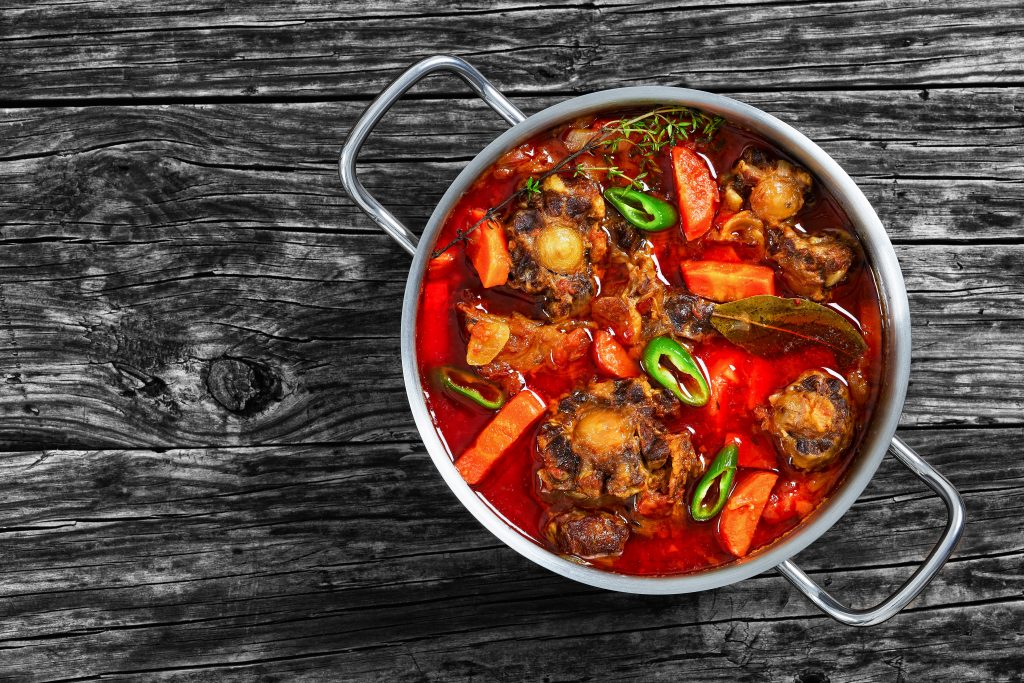 Instructions
Heat oven to 350 degrees with the rack in the center.
Trim the beef of excess fat and and slice into 3-inch chunks. Season the beef evenly with 2 teaspoons salt.
Heat the oil in a large Dutch oven or heavy casserole over medium-high heat. Sear the beef in batches until browned. Remove to a platter.
Lower the heat to medium and add the shallot to the pot. Cook 5 minutes, stirring every now and then, until it's softened. Return the beef to the pot and sprinkle with flour. Stir in the tomato paste, garlic, wine, 1 teaspoon salt and 15 turns of the pepper mill.
Bring to a simmer, then add enough broth to just cover the beef. Toss in the herb bundle. Cover the pot with a sheet of parchment or foil, then top with the pot lid.
Place in the oven to braise for 2 1/2 – 3 hours. The cooking liquid will be slightly reduced and the meat should fall apart when prodded with a fork.
Put the carrots, leeks and fennel in a large skillet with 1/4 cup water, 1 tablespoon extra-virgin olive oil and 1/2 teaspoon salt. Place over high heat until the water boils. Cover and lower heat to a simmer. Cook until the vegetables are tender but still colorful, about 10 minutes.
Just before serving, stir the vegetables into the stew. Taste for seasoning  Sprinkle with parsley and about a teaspoon fresh orange zest. Serve over wide egg noodles, parmesan polenta or with crusty bread alongside.
Notes
Use a 4 1/2 – 6 quart capacity pot. When reheating, add a bit more stock or water to the stew as the sauce will thicken when refrigerated.
If  you liked this recipe, check out our Beefy Mexican Rice Soup.