The beauty of this Coconut Chia Chocolate Bars recipe is that you can always alter it, depending on what you have available in your fridge. I sometimes coat it with chocolate, or add whatever dried fruit I have available at that moment. And almonds, peanuts, nuts are generally something that can enrich this recipe and offer variety, so you don't get bored with it.
Ingredients
2 Cups Dried and Pitted Dates
1 Cup Unsweetened Coconut
one cup Almond Flour
1 Tablespoon Vanilla
one cup Mini Chocolate Chips
1/2 cup Chia Seeds
Instructions
Put the dates in a large bowl and cover with cold water. Let the dates soak for 30 minutes to one hour. This will help soften them and make them easier to blend
Drain the water from the dates and place in a food processor or blender. Grind/blend the dates until they are smooth and there are no large chunks
Move the date puree to a clean large bowl.
Add all the remaining ingredients to the bowl and stir until everything is evenly combined.
Preheat the oven to 300 ̊F and line a sheet tray or an 8×8 square pan with foil or parchment (either will work!)
Spread the dough evenly on the sheet tray and bake for 40 minutes
When the bars are cool, remove from the pan and cut into desired shape and size! Enjoy!
Nutritional Info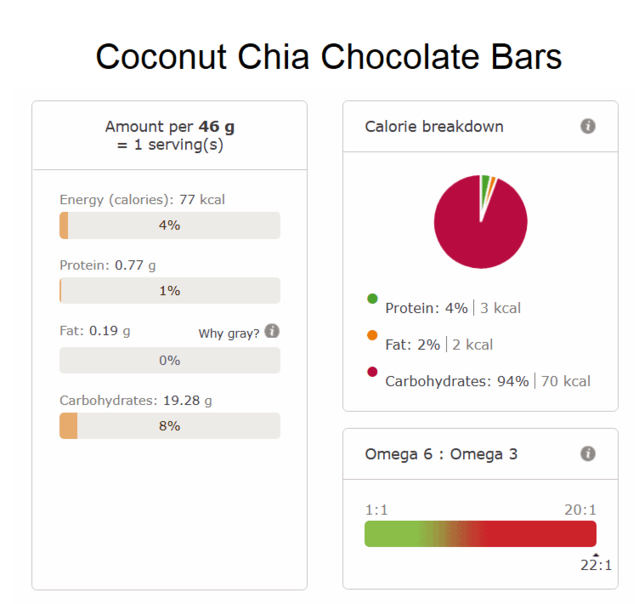 If you liked this recipe, be sure to check out our: