Healthy comfort food for all fitness and health enthusiasts.
A one-pan meal, really refreshing with highly nutritious ingredients, and it takes just 10 minutes to prepare it and another 40 minutes to cook it.
This is a classic American cuisine dish and can be served for up to 6 people. A truly nice, healthy, family meal.
Ingredients:
1/3 cup olive oil
1/4 cup sun-dried tomato pesto
1 tablespoon dried basil
2 teaspoons dried oregano
1 teaspoon dried parsley
one teaspoon of dried dill
1 teaspoon crushed red pepper or to your liking
1-2 cloves garlic minced or grated
salt + pepper to taste
1/3 cup kalamata olives halved
1/3 cup roasted marinated artichokes, drained + roughly chopped
2 tablespoons pickled pepperoncinis roughly chopped (optional)
3 cups cooked quinoa
4-8 ounces ricotta cheese omit for vegan version
8 ounces mozzarella cheese shredded (omit or use vegan cheese for vegan version)
2-3 red bell peppers sliced
8-12 pepperonis optional
2-4 ounces pecorino cheese freshly grated (omit for vegan version)
cherry tomatoes + freshly torn basil for topping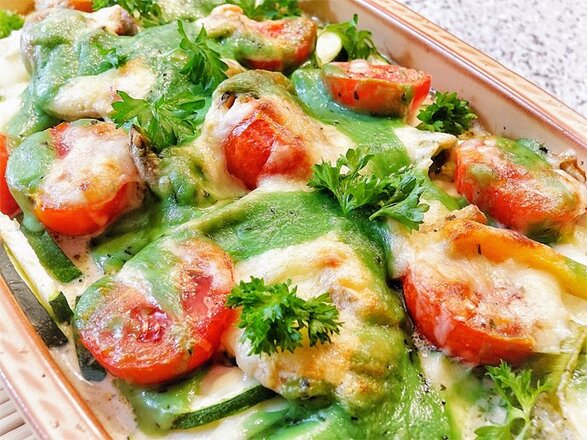 Instructions:
Preheat the oven to 375 degrees F.
Add the olive oil (make sure the oil covers the entire bottom of the baking dish, if not add more oil), now add the sun-dried tomato pesto, dried basil, dried parsley, dried oregano, dried dill, crushed red pepper, garlic and salt and pepper to a 9 x 13 inch or slightly smaller baking dish (I like using one of those oval dishes that is just a little smaller than a 9×13). To the baking dish add the cooked quinoa, the olives, artichokes and pepperoncinis. Toss well until all the ingredients are evenly distributed. Dollop the ricotta over the mixture and gently mix to combine.
Overtop, sprinkle on the mozzarella cheese and then scatter the sliced red peppers over top. At this point it will seem like there are too many peppers, but this is fine. They will cook down. Place the pepperonis on top. Sprinkle on top 2-4 ounces of pecorino and another drizzle of olive oil. Bake in the preheated oven for 40 to 45 minutes or until the top is browned and the peppers have softened.
Remove from the oven and garnish with fresh basil, tomatoes and more pecorino or parmesan.
Cut and eat!
Nutrition Info
And if you are into such healthy food, make sure you try our Lemon Roasted Salmon With Sweet Potatoes And Broccolini.