Hypothyroidism is notably affecting some people around the world and for one thing, most of them are somehow experiencing difficulties with their weights. In fact, weight gain is often the outcome of having hypothyroidism and losing weight seems impossible to obtain.  Hence, Hypothyroidism Weight Loss Diet, Tips with 28 Recipes will be shared on this page to guide you as a beginner.
Related Content:
What is Hypothyroidism?
Hypothyroidism is when the thyroid gland is not producing enough thyroid hormones that the body needs. This is the exact opposite of Hyperthyroidism, wherein the thyroid produces too much of the thyroid hormones.
Signs and Symptoms of Hypothyroidism
Besides weight gain, the common signs and symptoms are:
Joint pain
Muscle pain
Fatigue
Hair loss and/or brittle fingernails
Puffy Face, hands and feet
Insomnia
Cold intolerance
Goiter – enlarged thyroid glands
If left untreated, the symptoms may progress to:
Anemia
Puffiness in the face
Hoarseness of voice
Slow heart rate
Eyebrows may be thinned or missing
Depression
Hearing loss
Meanwhile, if these symptoms are present, it is then advised to consult a physician immediately.
However, there are certain foods for hypothyroidism that can help enhance metabolism and therefore promote weight loss. Moreover, there are foods that are also important in the diet but are allowed only to eat just enough. And surely, there will be foods to avoid too. Furthermore, there are advisable Hypothyroidism Weight loss diet plans that can be followed as well. To sum up, a change in lifestyle is obviously an important factor
Best foods for Hypothyroidism
Eggs – ultimately considered a thyroid superfood as it contains iodine and selenium that are needed for the day
Chicken and Beef – There is indeed a deficiency in zinc when you develop Hypothyroidism. Meat is a good source of zinc, hence it is advised to include it in your diet.
Seaweeds – definitely another good source of iodine as well as Omega 3 Fatty Acids, wherein a metabolic by-product called Resolvins reduces inflammation and also stops it from occurring.
Milk and Yogurt – another significantly good source of iodine, and rich in other nutrients that are needed by the body especially Vitamin D. Moreover, yogurt promotes healthy guts.
Fish and Shellfish – They are certainly a high source of iodine and Omega 3 Fatty acids as well.
Berries – and lastly, these are fruits good for hypothyroidism. They are definitely nutritious, high in antioxidants, as well as rich in selenium.
Foods to avoid when having Hypothyroidism
Millets – These are small-seeded cereal crops and grasses which are popular in Africa and Asia. Although these are Gluten-Free and rich in fiber and minerals, Millet has a dietary compound called Goitrogens that, indeed, impair thyroid and iodine metabolism and may ultimately cause the development of goiter. Furthermore, millets also contain flavonoids which further inhibit iodine uptake by cells in the body, impair secretion of thyroid hormones, and reduce organification of Iodine by the enzyme thyroperoxidase.
Gluten – Specifically found in bread, pasta, cereals, and rice which irritate the small intestine and may hamper absorption of thyroid hormone replacement medication especially if you have celiac disease.
Processed foods and Fast foods – To point out, these processed foods and as well as fast foods indeed contain high sodium and should be avoided too.
Alcohol – it will certainly affect the thyroid hormone level badly and to produce hormones.
Sugary Foods – for one thing, hypothyroidism can cause the body's metabolism to slow down, which definitely means that it's easy to put on weight if you are taking an excessive amount of sugar.
Caffeine – There were studies that caffeine has been found to block absorptions of thyroid hormone replacement. Eventually, there were reports of uncontrollable thyroid levels when taking medications with coffee. For this reason, it is therefore been advised to only take water with medications and then wait at least 30 minutes before sipping coffee.
Cruciferous Vegetables
Cauliflower, Broccoli, Cabbage, Kale and Bok Choy are surprisingly vegetables good for Hypothyroidism. It's notably true that these veggies contain glucosinolates that might interfere with the body's thyroid hormone productions in high amounts. Ordinarily, it is for sure you'll be eating a normal size serving hence, it will not harm your thyroid. Therefore, cruciferous vegetables are also important for a healthy diet for hypothyroidism and further promote a healthy thyroid.
Soya
Some research in particular. suggests soy products such as miso and tofu could affect the thyroid gland negatively under certain circumstances such as having iodine deficiency due to isoflavones. However, a study published in March 2019 in Scientific Reports, found that soy has indeed no effect on thyroid hormones and very modestly raises thyroid-stimulating hormone levels. Since there are no specific dietary guidelines, hence, there's no reason to worry it'll hurt your thyroid, as long as you're eating normal amounts of soy.
Therefore, it is important to realize that the kinds of food and also the amount you are taking in has a great impact on your weight. Moreover, there are also some simple tips that you can follow and may certainly help you to lose weight as well.
Hypothyroidism Weight Loss Tips
Here are some weight loss diet tips for hypothyroidism and at the same time with lifestyle strategies. Along with the correct medicines and supplements, these will consequently help maintain or lose weight if need be.
Cut simple carbs and sugar – as mentioned earlier, having hypothyroidism slows down the metabolism of the body. Furthermore, foods with a high glycemic load (such as refined grain products and sugary drinks) may increase inflammation in the body. Hence, a moderate- to a low-carbohydrate diet that focuses on complex carbohydrates is recommended and avoid simple sugars,
Eat plenty of anti-inflammatory foods – Definitely, an anti-inflammatory diet can, in fact, help calm the immune system and excessive inflammation. It also supports the adequate intake of the essential nutrients needed for healthy thyroid function, that includes magnesium, B vitamins, zinc, selenium, iron, and vitamin C. An example of these foods are leafy green vegetables, tomatoes, fatty fish, nuts, fruit, and olive oil to name the few. And moreover, this diet indeed can decrease the burden on the liver to metabolize highly processed foods.
Keep a Food Diary – this method will certainly help you keep track of the diet and activities.
Stick to small frequent meals – Eating in small portions but, in more frequent meals with balanced macro-nutrients supports, as well as balanced blood sugar. It also helps avoid the highs and lows of oversized, highly processed meals.
Exercise – While it is an important complement to a healthy diet in order to help burn calories, exercise can further suppress hypothyroidism. Hence, the person should be properly managed,
Take thyroid medication as directed – Thyroid hormone should be taken on an empty stomach first thing in the morning with plenty of water. There are some medications that can affect your weight loss. Talk to your doctor about the adjustment if needed.
Have enough sleep – in essence, it is very important that you get seven or eight hours a night. It significantly helps bolster the immune system, gives energy and actually helps metabolism.
Always drink water – always prefer water as your drink especially when taking medication. Other drinks should be in moderations.
Our Hypothyroidism Weight Loss Tips, Diets with 28 Recipes here will surely guide you to begin your journey to a healthier life. As a matter of fact, there are several types of diets that can certainly be followed and whichever you feel that works for you. These Hypothyroidism Weight Loss Diets are:
Low Glycemic Diet

Mediterranean Diet

Autoimmune protocol/anti-inflammatory/AIP diet

Paleo Diet

Ketogenic Diets

Atkins Diet

Gluten-free diet
To further help you with the right foods, here are the best 28 Hypothyroidism Weight loss Recipes that are collected. Check them below.
An easy and tasty chili recipe as well as a Low Glycemic kind of diet that can help weight loss if you have Hypothyroidism. Ingredients include are, of course, ground beef, pinto beans, re-fried beans, bell pepper, onion and garlic, some chile fresh and powder and several other herb and spices.
Get the recipe here.
Another of the Low Glycemic diet as well as Low carb Keto recipe, this Crisp-skinned Salmon can help you with weight loss too. Indeed very easy to prepare with only Salmon, some salt and olive oil as ingredients.
Get the recipe here.
---
Perfect for breakfast or take away, this Oat Bran Applesauce Muffins is also Low Glycemic and surely healthy and helps with weight loss as well. This Hypothyroidism weight loss recipe are made with Oatmeal, oat bran, some maple syrup, and sweetener of choice, unsweetened applesauce, milk, egg substitute, and some walnuts.
Get the recipe here.
Definitely, a well-loved traditional breakfast, this Greek Yogurt Blender Pancake, is of-course healthy and easy to make and also a Low Glycemic one. Ingredients are wheat flour, rolled oats, baking powder, some eggs, non-fat Greek yogurt and almond milk or milk of choice.
Get the recipe here.
---
This healthy Greek Salad with Avocado is a Mediterranian Diet and will definitely help you with weight loss. Ingredients are Cucumber, tomatoes onion, avocado, olives, oregano, parsley, feta cheese, olive oil and with some salt and pepper.
Get the recipe here.
Another Avocado based Mediterranean diet, this Lemon Stuffed Avocado is easy to make. Indeed, very rich in Omega 3 as well as iodine that are essential for hypothyroidism. Ingredients are canned Salmon, greek yogurt, avocados, parsley, celery, mayonnaise, dijon mustard and of course some salt and pepper to taste. This is as good as Paleo, Atkins and Keto diet too.
Get the recipe here.
---
Indeed very easy to prepare and ready in just 2 minutes. This healthy and tasty Microwave egg caprese breakfast cups are definitely an ideal breakfast that can fill your tummy up especially if you re in a hurry. Just combine some thinly sliced ham, shredded mozzarella or provolone or both, basil pesto sauce, cherry tomatoes, eggs, fresh basil leaves, and some salt and pepper.
Get the recipe here.

Another ideal food for Hypothyroidism from Mediterranean diet, this Simple Grilled Salmon and Vegetable is rich in Omega 3, iodine and other nutrients and at the same time, can enhance metabolism thus, help weight loss. Ingredients are zucchini, bell peppers, onion, salmon fillet, some olive oil and of course salt and pepper.
Get the recipe here.
---
This Bone Broth is an AIP, Paleo, Gluten-free, as well as Keto. Great anti-inflammatory and also enhances metabolism. You are going to need some beef bones, carrots, celery, ACV and some salt and pepper.
Get the recipe here.
Why this is the Best AIP Waffles ever? It's Paleo, Gluten-free and no sugar. Indeed great for breakfast, snack or even dinner. These healthy waffles contain Ripe Plantains, some flour, butternut squash puree, coconut oil, baking soda, cream of tartar, some ground cinnamon and salt.
Get the recipe here.
---
Definitely a powerful combination of Ginger and Turmeric, this Ginger-Turmeric Smoothie is rich in anti-oxidant and has a powerful anti-inflammatory effect as well. For a tasty and healthier blend, these combinations consist of ginger, turmeric, banana, pineapple slices, some lemon juice, honey, and coconut milk.
Get the recipe here.
Simple but healthy Asian Stir Fry is a combination of healthy vegetables great for AIP. Indeed very easy to prepare and you can actually use any vegetables. For this Hypothyroidism weight loss recipe, the ingredients used are frozen mixed vegetables, chicken or beef meat, some broth, ACV, coconut aminos, some ginger, salt, and garlic.
Get the recipe here.
---
So delicious and healthy at the same time, this Paleo dessert Jaden's Flan is indeed a very nutritious treat for everyone. The ingredients are full fat coconut milk, around 8 large eggs, some honey, heavy cream, vanilla extract, and lemon juice.
Get the recipe here.
This healthy and delicious lasagna is no ordinary one as it is grain-free. perfect for someone with Hypothyroidism and at the same time, may help with weight loss. You'll need to make first the Grain-free Tortillas/Crepes as the substitute for pasta. Other ingredients are marinara sauce, need sausages, baby spinach, provolone cheese, some curd cheese, parmesan cheese yogurt or almond milk, parsley and basil and of course, some salt and pepper.
Get the recipe here.
---
You don't need to miss bread when you are on a diet. This Rustic Grain-free bread, although it may not taste the same, but it is a great alternative, especially if you also have hypothyroidism and would like to maintain or lose weight. Easy to make and with only few ingredients, like almond flour or meal, coconut flour, eggs, butter some raw honey or sweetener of choice and water.
Get the recipe here.

Truly tasty and healthy, this Creamy Dill and Garlic Salmon is rich in Omega 3 and iodine good for anyone with hypothyroidism as well as on a Paleo, Gluten-free Diet and Low Carb Keto Diet. Very easy to make with ingredients such as salmon fillet, mayonnaise, fresh dill, brown mustard, garlic, and some salt.
Get the recipe here.
---
This 90 Seconds Keto Bread is by far very popular among keto dieters as it is indeed so easy and fast. Ingredients are Coconut Flour, Almond Flour, egg, melted butter, and baking powder.
Get the recipe here.
Nothing beats the classic like Beef Stroganoff but this time it is Keto. This recipe also fits in Hypothyroidism weight loss diets, tips, and recipes. Ingredients are ground beef, butter, mushroom, bone broth, cream cheese, sour cream, and some salt and pepper.
Get the recipe here.
---
When it comes to budget-friendly seafood, tilapia fish surely fits the list. This Baked Lemon Butter Tilapia is also very easy to prepare, cooked very easily and at the same time, a healthy choice for hypothyroidism and great for weight loss too. The ingredients you need are tilapia fillet, butter, garlic, lemon juice and zest, some parsley leaves and salt and pepper.
Get the recipe here.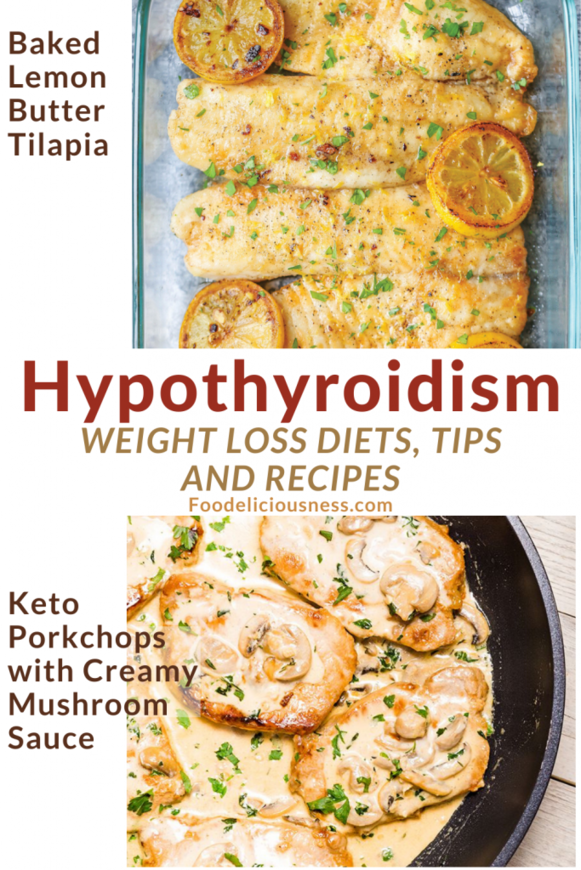 Perfect for dinner, this Keto Pork Chops is very easy to prepare and will be ready in just 20 minutes. It's a healthy low carb and great for hypothyroidism weight loss diet. Ingredients are some pork chops, olive oil or avocado oil, butter, mushrooms, heavy whipping cream, chopped parsley, fresh or dried thyme, and some salt and pepper.
Get the recipe here.
---
Pancakes are always well-loved indeed, especially for breakfast. Even on diet and with thyroid problems, you can have the Pancakes. You will not be disappointed with this Atkins Pancakes. You will need some flour or Atkins flour mix, sweetener of choice, baking powder, some salt, an egg, and cream.
Get the recipe here.
Definitely crab and avocado are very nutritious and this salad is just right to be listed in Hypothyroidism Weight-loss diets, tips and recipes. Ingredients in this salad are canned crab meat, mayonnaise, lime, cumin, paprika, and celery. If you prefer on an Atkins diet or in Low carb diet, this is right for you.
Get the recipe here.
This Lemon Seafood Salad is another healthy, rich in Omega 3 and iodine and ideal for hypothyroidism weight loss diet program. Definitely one of those very easy to prepare as well. Ingredients will be some salmon, several prawns, rocket, spinach, and watercress leaves, greek yogurt, lemon juice, and zest and fresh dill.
Get the recipe here.
This Baked Salmon with Bok Choy and Roasted Pepper Salsa is a healthy Atkins diet, and Low Carb, Gluten-free as well. Great in thyroid weight loss diet as well. Ingredients are salmon fillet, bok Chou, pepper, butter, olive oil some salt and pepper, lemon juice and zest and some roasted red bell pepper.
Get the recipe here.
---
Indeed this Fish Chowder Sheet Pan Baked is deliciously savory baked Gluten-free Hypothyroidism Weight Loss Recipe. Ingredients are Cod Fillet, small yellow potatoes, bacon, mayonnaise, dijon mustard, onion, lemon zest, Panko bread crumbs, thyme leaves, and pepper.
Get the recipe here.
Another healthy, delicious Gluten-free salad, this Shrimp Salad with Crispy Chorizo and Almonds have both meat and seafood that is well recommended for hypothyroidism weight loss diet for its nutrients. Great for lunch or dinner. Ingredients are peeled and deveined shrimps, finely chopped chorizo, unsalted almonds, a package of mixed greens, cucumber, cherry tomatoes, scallions, red wine vinegar, extra-virgin olive oil and of course, some salt and pepper.
Get the recipe here.
---
Surely you won't be worrying to be out of diet with this Gluten-free Garlic Parmesan Dinner Rolls. This is also Low carb as well and great for people with low thyroid hormones watching their weight. For this recipe, you are going to need some good quality gluten-free all-purpose flour blend, xanthan gum, some sugar for the instant yeast, salt, garlic powder, warm water, butter, an egg, cider vinegar, Parmesan cheese, and some dried parsley.
Get the recipe here.
This Gluten-free Beef Stew in Slow Cooker is indeed a perfect winter meal, although you can still have it on any weather. After all, this is great for the whole family for a perfect dinner. Another healthy Hypothyroidism Weight Loss recipe that you can indulge. Ingredients that you need to prepare are beef chunks, some thyme, frozen peas, onion and garlic, bay leaves, tomato paste, Worcestershire sauce, beef broth, Yukon gold potatoes, celery stalks some salt and pepper, and carrots.
Get the recipe here.
I hope you enjoyed this article. Try the recipes above and I'm sure you'll enjoy preparing them. Don't forget to Pin them into your Pinterest Board for later and share them with your friends.
---
You may also like