Chia seed is indeed very popular today for its health benefits and helps with weight loss. more and more recipes incorporated with Chia seeds are being included in the daily diet. In fact, with its small size, they are packed with powerful nutrients and antioxidants. 
Chia seeds are tiny, oval-shaped, gray color with black and white spots edible seeds from the plant Salvia hispanica.
Related to the mint family, Chia seeds were staples of Aztecs and Mayans back in the old days (around 16th century). Today, they are now grown and consumed commercially in some countries such as Mexico, Bolivia, Guatemala, Ecuador, Argentina, Australia, and even the United States.
When chia seeds are soaked, they absorbed the liquid up to 12 times their weight, thus, they become larger and have this gel-like substance around them.
Some of the Health Benefits of Chia Seeds are:
Great source of nutrients with very few calories

Most of the carbohydrates in chia seeds are fiber.

Rich in high-quality protein

It helps lose weight because of the high fiber and protein content of Chia seeds.

Contains high antioxidants

Rich source of Omega-3 Fatty Acids

Help reduce chronic inflammations

Chia seeds contain nutrients good for healthier bone development

Help to lower the risk of heart disease and reduce blood sugar level

Very easy to incorporate into the diet.
Here are 18 Chia Seed Recipes for Health and Weight Loss that you can try
.
They are absolutely easy, tasty, and surely you will love them.
Here is one of the famous Chia Seed Recipes, The Chia Pudding. Definitely popular especially for people who are in Low Carb Keto diet, Paleo, Vegan, and more. It is not only healthy but also very easy to prepare and so tasty. In fact, it can be prepared in many ways as long as you know the basic recipe.
For the Chia Pudding basic recipe, you will only need, some chia seeds, milk of choice whether dairy or non-dairy, maple syrup or your sweetener of choice, and vanilla can be added as well. Just mix them all together, and then leave for at least 15 minutes, or even overnight in a refrigerator to thicken. For variety, you can add your favorite fruit, berries, nuts, and even chocolate.
Get the full recipe here.
Who can't resist Peanut butter and Chocolate? Let's put them together with Chia seeds and you'll definitely love them more. This Peanut Butter Chocolate Chia Pudding will only take 5 minutes to prepare. As easy as any other Chia Puddings. Perfect for snacks or breakfast.
You will need Chia seeds, cocoa powder, peanut butter, vanilla extract, non-dairy milk, and maple syrup or sweetener of choice.
Get the full recipe here.
---
Start your day with this Healthy Chia Seed Omelet. This is included among the Chia Seed Recipes for its good source of protein and fiber that will fill you up for the day but will definitely not get you off your weight goal. All you need to prepare are some eggs, Olive oil, chia seeds, baby spinach, tomatoes, salt, and pepper.
Get the full recipe here.

Breakfast is just getting better and better indeed with this healthy Chia Seed Breakfast Bowl. To make, prepare your chia pudding first (chia seeds and coconut milk) and then combine it with Paleo granola, roasted nuts, coconut flakes, hemp seeds, pomegranate seeds, maple syrup, vanilla extract, and chocolate powder.
Get the full recipe here.
---
These Lemon Chia Seed Protein Cookies are something you can snack on and still will help you lose weight.  These low carb cookies are not only healthy but tasty too, and can be made easily. The ingredients are coconut flour, vanilla protein powder, chia seeds, xanthan gum, some salt, unsalted butter, lemon zest and juice, egg, vanilla extract, and sweetener.
Get the full recipe here.
This Chia Chocolate Chip Oatmeal Breakfast Cookie is very healthy, that's why I included this in among the Chia Seeds Recipes to share. In fact, it is packed with Omega-3 and antioxidants because of the walnuts and chia seeds. It is gluten-free as well. It also contains almonds, dried cherries, gluten-free rolled oats, honey, cinnamon, vanilla, chocolate chips, an egg, and some salt.
Get the full recipe here.
---
Definitely very healthy, full of nutrients, and at the same time very tasty, even kids will love this refreshing drink. This Green Smoothie with Matcha and Chia is also very easy to make. For this Chia recipe, you will only need some chia seeds, of course, matcha green tea powder, unsweetened coconut water, baby spinach, some frozen banana, vanilla extract and your milk of choice. If you want it sweeter, you may add some sweetener of your choice.
Get the full recipe here.

Here is a Vegan treat. This Chocolate Chia Seed Smoothie is another one of the healthy Chia Seed Recipes for you. It is indeed so delicious and refreshing. To make this, you'll need some Chia seeds, cocoa powder, almond milk or coconut milk, medium banana, dairy-free vanilla creamer, peanut or almond butter, and agave nectar with a cup of ice.
Get the full recipe here.
---
Pancakes are always special. But this Banana Chia Seed Pancake is even more special as it is made healthier.  Besides the basic ingredients of flour, eggs, milk, butter, and baking powder, you'll also add some banana, chia seeds, and almond flour.
Get the full recipe here.
Here is another of the Chia Seed Recipes, these Healthy Vegan Chia Waffles are packed with whole grains of spelt and wheat. They are also filling that can kick start your day or as any meal of the day. To make, you'll need some whole-wheat pastry flour, spelt flour, chia seeds, flax meal, almond milk or any non-dairy milk, some baking powder, baking soda, salt, and some vinegar.
Get the full recipe here.
---
This wholesome, gluten-free Quinoa and Chia Bread gives you another level of healthy bread. Besides Chia seeds and quinoa, it is also enriched with honey, fresh lemon, and olive oil.
Get the full recipe here.
Another easy and healthy bread that you can make at home. This Chia Almond Bread is not only sugar-free and dairy-free but it is also gluten-free. It is made up of Almond flour, gluten-free flour, eggs, olive oil, coconut cream, some baking powder, and baking soda, maple syrup, vanilla extract, lemon zest, and of course some chia seeds.
Get the full recipe here.
---
What is bread without spreads? These Chia Seed Jams indeed complete your sandwiches and they are easy to make. You'll have to choose your berries, and then you will also need some maple syrup, lemon juice, some filtered water, and your favorite Chia seeds.
Get the full recipe here.
Another healthy and tasty spread for your bread is this Almond and Chia Spread. All you need are almonds and chop them in your Thermomix until they become paste and mix in the Chia seeds.
Get the full recipe here.
---
Here is one that will freshen up your summer and even kids will love. These Chia Pudding Pops with Peaches and Dried Cherries is a perfect refreshment and snack on a hot day and it is healthy. The ingredients here are a can of coconut milk, coconut water, almond milk, vanilla, honey, small peaches, dried cherries, chia seeds, and some salt and pepper.
Get the full recipe here.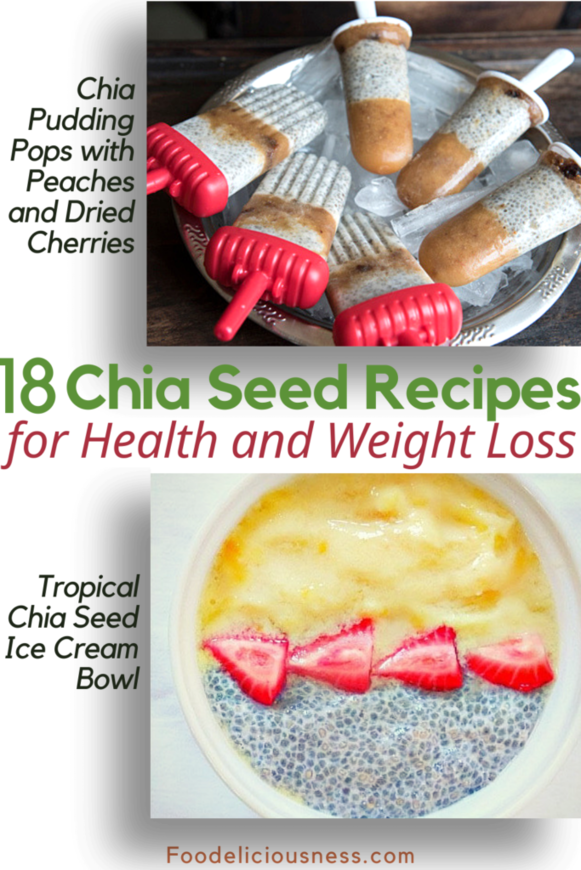 Here is a perfect treat for any occasion. This easy Tropical Chia Seed Ice Cream Bowl is so delicious and is great as a snack or dessert, and indeed very healthy, too. You will only need some Chia seeds, unsweetened vanilla almond milk or any plant milk, frozen pineapple, and mango. You may even try other tropical fruits too.
Get the full recipe here.
---
This Sauteed Zucchini with Toasted Chia Seeds are perfect as a side dish or even as your main meal. It is not only very healthy but also very easy to make and tasty as well. You'll only need a few ingredients here, such as a large zucchini, minced garlic, some chia seeds, olive oil, and some salt and pepper.
Get the full recipe here.
Another easy Chia recipe is this Roasted Chia Cauliflower. It is indeed very healthy and will help you lose weight as well for its low-carb. Besides Chia Seeds and fresh cauliflower, you will also need olive oil, red pepper flakes, and some salt and pepper.
Get the full recipe here.
Don't forget to Pin them into your Pinterest board for later. And share them also with your friends.
---
You may also like