Blackstone griddles have become a popular choice for outdoor cooking enthusiasts, offering versatility and convenience when preparing delicious meals in the great outdoors. With a range of accessories available, enhancing and expanding the capabilities of your Blackstone griddle has never been easier. In this article, we delve into the top 6 Blackstone accessories that will elevate your griddle game to new heights.
Disclaimer: Some links in this article are affiliate links. That means if you use them to make a purchase, we earn a commission at no extra charge to you.
The right set of accessories for your Blackstone griddle can make all the difference in your culinary adventures. From tools designed to create the perfect burger to time-saving attachments that make cleaning a breeze, each accessory has its purpose and can make the cooking process more enjoyable. When selecting your Blackstone accessories, consider factors such as durability, ease of use, and versatility.
It is essential to invest in high-quality accessories made from resistant materials, like stainless steel, to ensure they can withstand the heat and last for multiple cooking sessions. Consider accessories with ergonomic designs that provide comfort and ease of use while cooking. Lastly, look for versatile options that can be used for various purposes, allowing you to maximize your griddle's potential.
We've spent countless hours researching and testing Blackstone accessories to compile this list of the top 6 must-have items that will transform your outdoor cooking experience. So, let's dive right in and discover which accessories will make your griddle the ultimate outdoor kitchen tool.
Top 6 Blackstone Accessories
We have compiled a list of the top 6 Blackstone accessories that will enhance your grilling experience and help you master the art of outdoor cooking.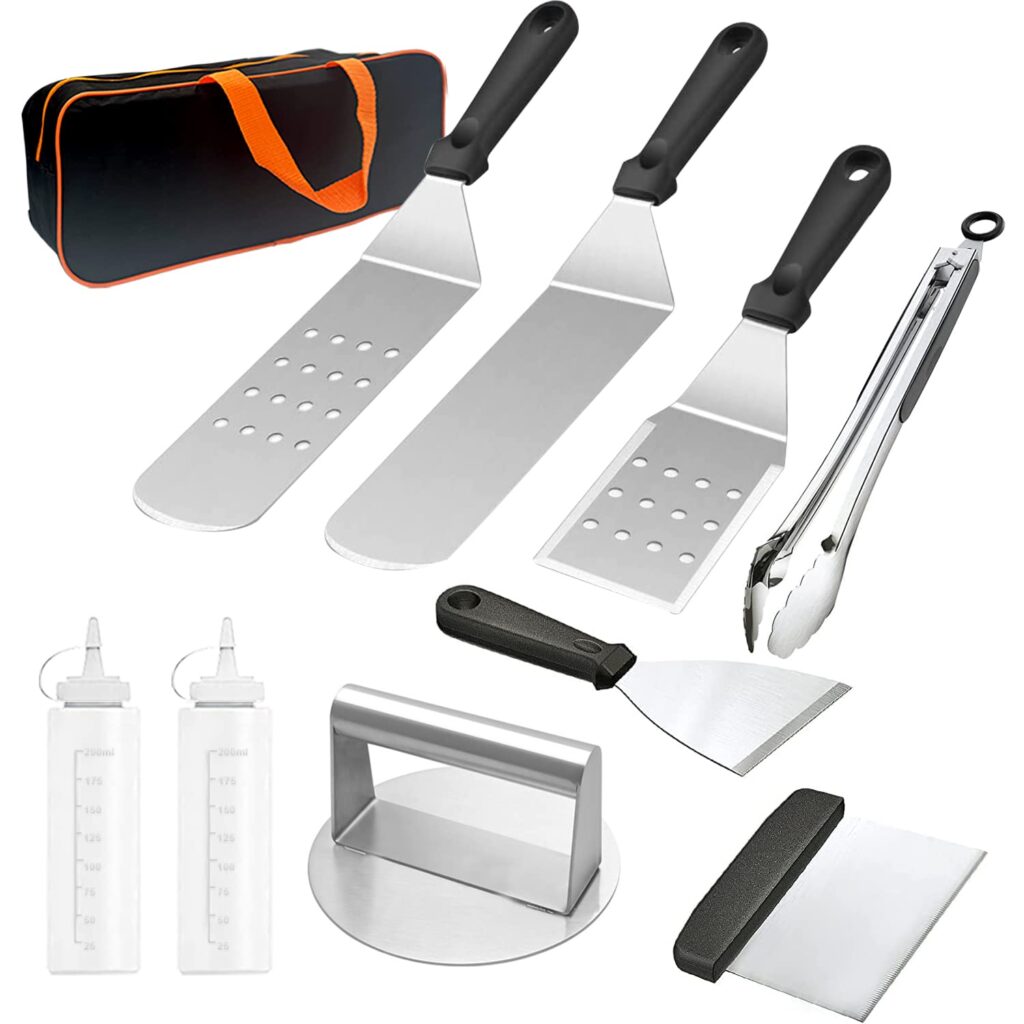 This all-in-one griddle accessories kit is perfect for all your grilling needs, offering convenience and quality.
Pros
Comprehensive set including essential tools for barbecue
High-quality food-grade stainless steel materials
Easy to clean and maintain
Cons
May not use all utensils included in the set
Made in China, may present concerns for some buyers
Heavier than some other grilling accessory kits
The EAROND Griddle Accessories Kit for Blackstone is a fantastic set of tools to upgrade your outdoor barbecue experience. We recently tried this product and were impressed with the array of utensils included, featuring a professional-grade spatula, burger press, scraper, and more – everything needed for a successful BBQ.
One of the highlights of this kit is the quality of materials used. The stainless steel ensures durability, rust-proofing, and BPA-free safety. Additionally, the set is effortless to clean due to the smooth surfaces of each accessory, either by hand or dishwasher, and the efficient tapered scraper for removing any charred residue on grills.
As we used the tools, we noticed the well-thought-out design, such as the functional long spatula and slotted spatula for accurate flipping, and the burger press for even cooking. The chopper came in handy for creative cutting and the resealable squeeze bottles for storing sauces or water. Don't count out the importance of the squeeze bottles, they make life much easier when you're cooking on the Blackstone.
In conclusion, the EAROND Griddle Accessories Kit for Blackstone is a comprehensive and high-quality option for grilling enthusiasts. Despite the few cons, the kit's pros far outweigh them, making it a great investment that will vastly improve your BBQ experience. Upgrade your outdoor cooking sessions and enjoy quality time with your family and friends by grabbing this top-notch set.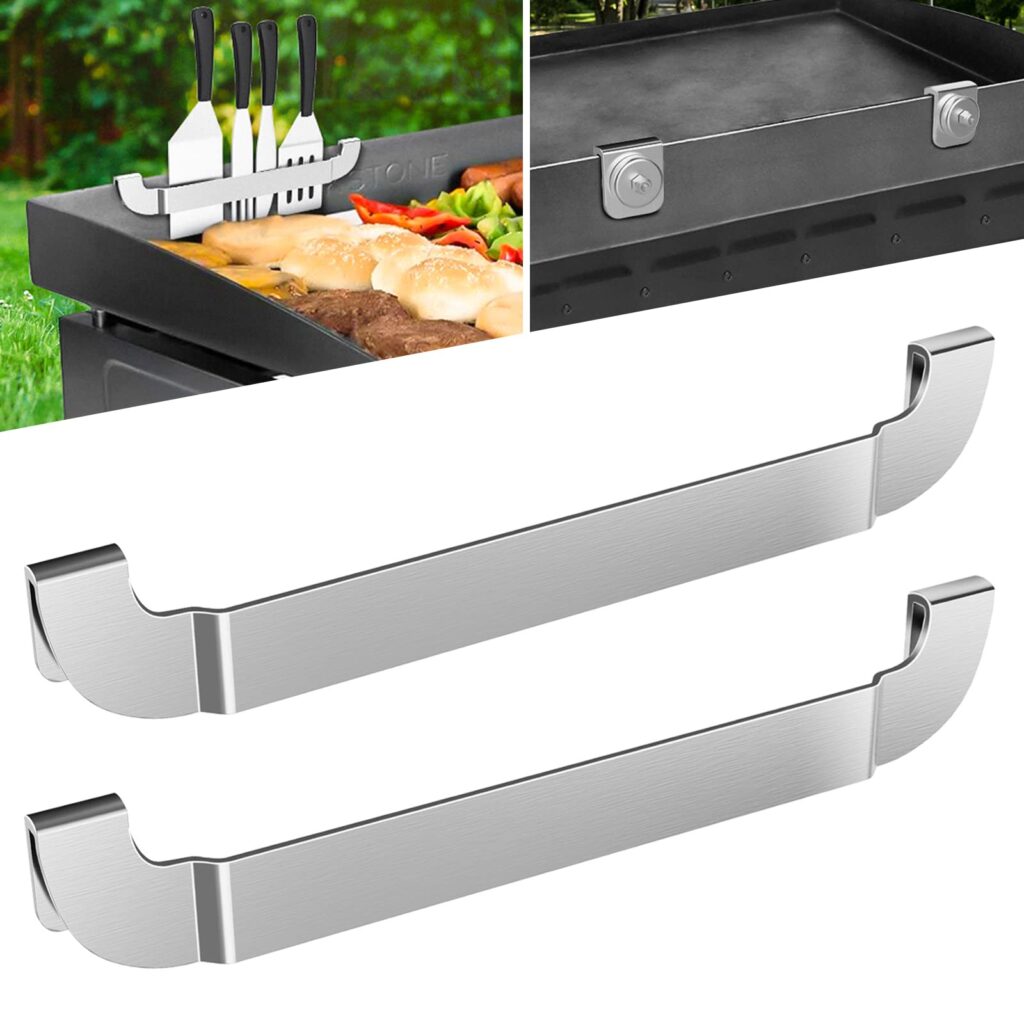 This ZHSX 10 Inch Griddle Spatula Holder is a must-have for any serious griddle chef looking to keep their tools organized and easily accessible.
Pros
Easy magnetic installation
High-quality stainless steel material
Holds various types of grilling tools
Cons
May not fit on all grill models
Magnets might not be strong enough to hold heavy tools
Clearance issues with some Blackstone lids
As avid grillers, we recently tried the ZHSX 10 Inch Griddle Spatula Holder with its magnetic design. It is an ideal accessory for our grilling sessions, saving us time and effort by keeping our most-used tools close at hand. The holder measures 10.7 x 1.2 inches, which is just the right size to hold our long spatulas, grill scrapers, and fish turners, without taking up too much space on our grilling station.
The magnetic design is quite impressive, as it doesn't require any drilling or tools for installation. The magnetic buttons at both ends made it easy for us to move and adjust the position of the holder whenever we needed to. However, we did notice that the magnets may need some reinforcement for heavier grilling tools. While the holder works well for most spatulas and scrapers, it might struggle to hold up larger or heavier tools securely.
The holder is made of thickened stainless steel, which ensures durability and resistance against rust and corrosion. This is particularly important for an outdoor grilling accessory. One drawback we experienced was that it might not fit on all grill models. It worked well on our Blackstone griddle, but you should definitely double-check your grill measurements before purchasing.
Lastly, we found that there could be some clearance issues for those using Blackstone griddle lids. When the holder is attached on the side, the lid might not close completely. However, this wasn't a deal-breaker for us, as we could easily remove it when we needed to close the lid.
In summary, the ZHSX 10 Inch Griddle Spatula Holder is a handy accessory for keeping our grilling tools organized and within reach while we grill. Just keep in mind the potential limitations with heavier tools and compatibility with certain grill lids.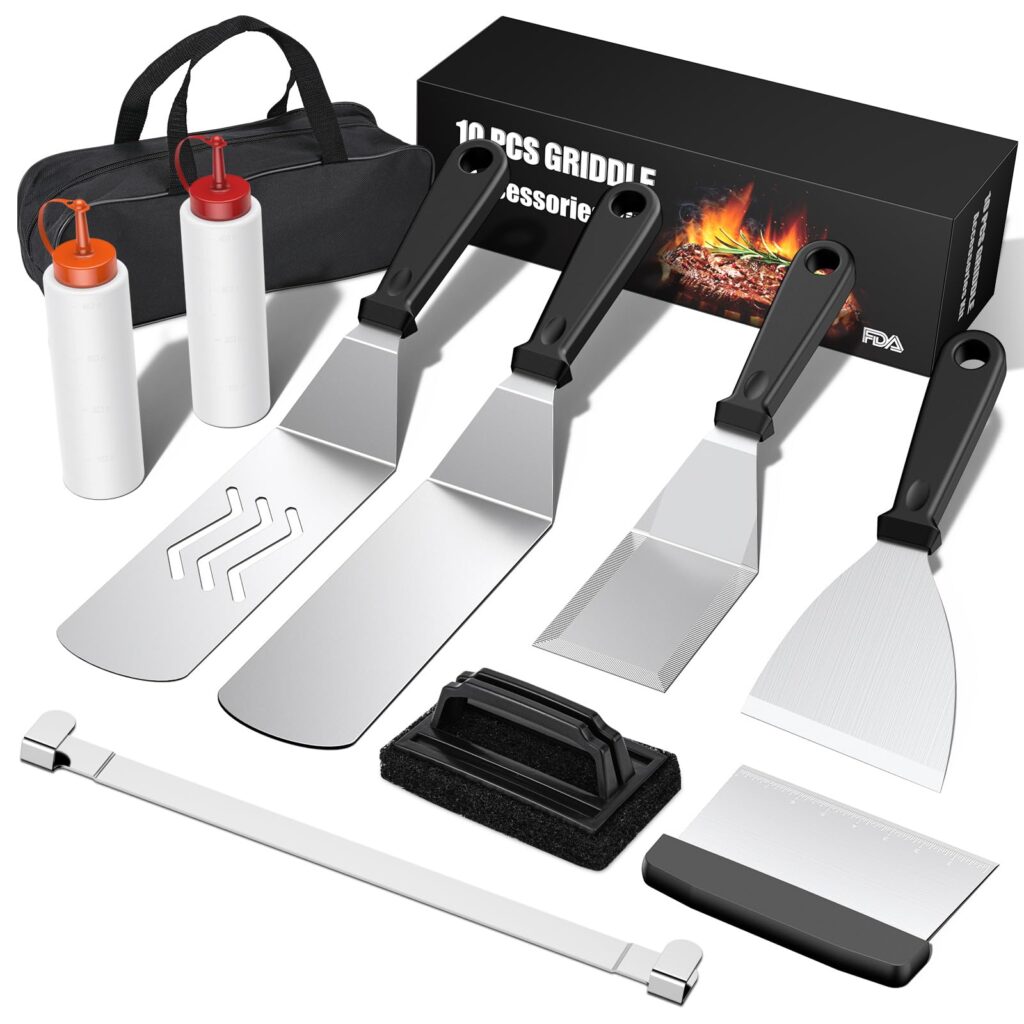 CreiYuan's 10-piece griddle accessories kit is a great addition for any outdoor cooking enthusiast, offering both convenience and quality.
Pros
High-quality stainless steel construction
Extended handle and spatula holder for convenience
Easy to clean and includes a storage carry bag
Cons
Slightly flimsy squeeze bottles
No official Blackstone branding on items
Spatulas may not be as sturdy as expected
When we tried the CreiYuan 10-piece griddle accessories kit, we appreciated the premium food-grade stainless steel material used for each tool. This made the tools more durable and resistant to rust compared to other products on the market. The extended handle on the spatulas was also a well-thought-out feature. It saved us from potential burns while flipping and moving food on the grill.
The griddle spatula holder included in this set was another nice addition. It could be easily attached to the side of the griddle without any drilling or tools, making it very convenient to have our grilling tools readily available. Also, the large capacity storage bag that comes with the package is a great bonus. It lets us keep all the tools well-organized for storage and easy portability when going camping or having a barbecue away from home.
Cleaning these tools was a breeze. We simply popped them into the dishwasher, and they came out looking good as new. This was quite handy, especially after a long day of grilling.
However, we did notice a few shortcomings. Although the squeeze bottles added variety to the set, they felt a bit flimsy in comparison to the rest of the kit. The plastic handles on the bottles could be more robust for added durability. Also, while the product description mentions Blackstone, there's no official branding on any of the items. Lastly, we found that the spatulas may not be as sturdy as we initially expected.
All things considered, the CreiYuan 10-piece Blackstone griddle accessories kit is still a solid choice for anyone looking to enhance their outdoor cooking experience. With its convenient features and durable construction, it makes a practical and valuable addition to any grilling setup.
g to improve their Blackstone grilling experience and keep their tools organized and easily accessible.
This reusable and eco-friendly grease cup liner is perfect for any Blackstone grill enthusiast.
Pros
Perfect fit for most Blackstone grills
Made from high-quality, food-grade silicone
Easy to clean and reusable
Cons
May require frequent cleaning
Collapsible design might need careful handling
Limited color options (blue and red)
These HUAKENER 2 Pcs Grease Cup Liners for Blackstone Grill are a must-have accessory for all grill enthusiasts who own a Blackstone grill. With a perfect fit measuring 8 x 3 x 3.7 inches, it ensures that grills are kept clean and food remains hygienic.
The silicone grease cup liners are made from high-quality, food-grade silicone materials that are resistant to high temperatures. This makes them durable, long-lasting, and safe to use. Additionally, they are eco-friendly and much better than the disposable aluminum liners, helping to reduce waste and pollution in landfills.
Cleaning these liners is a breeze, as they can be safely used in dishwashers. After cleaning and drying, they are ready to be reused, saving you money on foil grease drip trays. Furthermore, the collapsible design allows for easy storage, occupying minimal space in drawers or cabinets.
One drawback is that they may require more frequent cleaning compared to disposable liners. Also, the collapsible design might need careful handling to avoid damage while folding or unfolding. Lastly, they are only available in two color options, blue and red.
Overall, we highly recommend HUAKENER 2 Pcs Grease Cup Liners for Blackstone Grill users due to their high-quality silicone material and eco-friendly nature. Plus, their easy-to-clean and reusable design make them a cost-effective and convenient addition to your grilling experience.
The Blackstone 5555 Basting Cover is an excellent addition to any griddle setup due to its quality construction and versatility.
Pros
Perfect size for various cooking tasks
Heavy-duty stainless steel construction
Safe and easy to use
Cons
Could be difficult to store due to its size
Might require some practice for perfect results
Not compatible with all grill setups
We recently tried the Blackstone 5555 Stainless Steel Square Basting Cover and were impressed by its functionality and build quality. The 10×10-inch dimensions make it ideal for covering a decent amount of food, whether it's melting cheese on burger patties or steaming vegetables.
The heavy-duty stainless steel construction ensures longevity and rust-resistance while giving it a stylish look. This basting cover not only provides a consistent temperature during cooking but also prevents grease from splattering, ensuring a safe and enjoyable experience.
However, one downside is that due to its size, it might not fit easily in some storage spaces. Moreover, it could take some practice to achieve perfect results consistently. Lastly, while it works well on griddles, iron pans, and skillets, it may not be compatible with all grill setups.
In conclusion, the Blackstone 5555 Stainless Steel Square Basting Cover is a valuable accessory for griddle enthusiasts, offering a combination of durability and versatility. Despite its few drawbacks, we believe it will enhance your cooking experience and should be considered a staple in any griller's kitchen. It's great for when you want to melt the cheese on those smash burgers.
A comprehensive solution for protecting and maintaining your Blackstone 17-inch Griddle, offering both a reliable cover and grease cup liners.
Pros
Heavy-duty and all-weather resistant construction
Compatible with Blackstone 17″ Griddle and Tailgater
Grease Cup Liners included for easy cleanup
Cons
May not fit other grill brands or sizes
Some users may find it a bit snug for additional accessories
Buckle closure might become loose over time
Having recently used the Blackstone 17 inch Griddle Cover and Carry Bag along with the 5017 Grease Cup Liners, we can confidently say these accessories tremendously improved our grilling experience. The cover, made from a heavy-duty canvas material, shields our griddle from elements like rain, snow, and dust while resisting fading and cold-cracking. With the double-layered construction and reinforced stitching, we found it to be durable enough to withstand harsh conditions.
The cover's buckle closure system securely fastens beneath the griddle, ensuring it stays put even on windy days. The compatibility with the Blackstone 17″ Griddle and Tailgater also gives us peace of mind, knowing it's specifically designed for our grill. However, it's essential to keep in mind that this cover might not fit other griddle brands or sizes.
In addition to the cover, the package includes Blackstone 5017 Grease Cup Liners, making it a breeze to clean up after cooking. These 10 grease cup liners easily fit our rear grease griddles and effectively collect grease and grime resulting from cooking. Nevertheless, there might be less expensive alternatives, but we're satisfied with this set's sturdiness and effectiveness.
Overall, we highly recommend the Blackstone 17 inch Griddle Cover and Carry Bag, along with the 5017 Grease Cup Liners, to fellow Blackstone griddle owners. These are valuable accessories that not only protect your grill but also make maintenance a breeze, granting you peace of mind and convenience.
The RTT Griddle Cleaning Kit is an essential accessory for maintaining your Blackstone griddle's cleanliness and longevity.
Pros
Deep cleaning capability
Protection from hot surfaces
Comprehensive kit with 15 pieces
Cons
Pumice stone may leave residues
Handle for scrub pad can be flimsy
May require effort to remove tough stains
We recently tried the RTT Griddle Cleaning Kit for Blackstone and were quite impressed with how easy it was to use. The grill stone and scraper effectively removed stains, residue, and burnt food particles. This kit will definitely help to extend the life of your griddle if used before and after cooking.
One feature we appreciated was the inclusion of both plastic and stainless steel handles, providing protection from scalding while cleaning. Since the handles are ergonomically designed, it was easy to maintain control of the stone and cleaning pads. The 15-piece set makes it a great gift idea for anyone who enjoys outdoor and indoor barbecuing, especially if they own a Blackstone griddle.
However, we did notice that the pumice stone sometimes left behind residues on the griddle. Additionally, the handle for the scrub pad felt a little flimsy. We recommend putting some extra effort into removing tougher stains as the scraper may not be enough for that.
In conclusion, the RTT Griddle Cleaning Kit for Blackstone is a practical and necessary accessory for any Blackstone griddle owner. The comprehensive kit helps maintain cleanliness and durability, despite some minor drawbacks. It's definitely worth the investment for those who want to keep their griddles in top condition.
This ZHSX 10 Inch Griddle Spatula Holder is a useful accessory for your griddle, providing a neat solution for organizing your cooking tools.
Pros
Durable and high-quality stainless steel material
Easy to install without drilling or tools
Unique curved design for better tool placement
Cons
May not fit all grill griddle types
Thumb screws quality could be improved
Limited to holding tools within 9.7 inches width
We recently used the ZHSX 10 Inch Griddle Spatula Holder on our Blackstone flat top griddle and found it to be quite convenient. The stainless steel material not only adds to its durability, but also resists rust and corrosion, which means it will last for a long time.
The easy installation process does not require any drilling, and the inclusion of the thumb screws makes it convenient to attach. However, we noticed that the quality of the thumb screws might need some improvement, as they broke during the installation process.
One distinct feature of this spatula holder is its unique curved design, which allows for a smoother and firmer placement of tools. While it worked well with our Blackstone flat top griddle, it is essential to confirm if your grill griddle is suitable for this tool before purchasing.
The ZHSX 10 Inch Griddle Spatula Holder is limited to holding tools with widths up to 9.7 inches. While this works for most grill scrapers, spatulas, and turners, it might not accommodate all tools in your grilling arsenal.
In conclusion, the ZHSX 10 Inch Griddle Spatula Holder is a handy and practical accessory for your griddle if you require a compact solution for organizing your cooking tools.
Buying Guide
When looking for the best Blackstone accessories, there are several factors that we should consider. In this buying guide, we will provide you with essential tips and features that will help you select the best product for your needs.
First and foremost, we need to consider the compatibility of the accessories with our Blackstone griddle. Make sure the accessories you choose are designed specifically for the model of your griddle or, at least, mention that they are compatible with a wide range of models. This will ensure that the accessories fit perfectly and work effectively.
Next, we should pay attention to the material used in the construction of the accessories. High-quality materials such as stainless steel, cast iron, and heavy-duty plastic are ideal for durability and long-lasting performance. Stainless steel, for instance, is corrosion-resistant, easy to clean, and can withstand high temperatures.
As for the variety of accessories, it is essential to have a diverse set that will cater to different types of cooking. Some popular and helpful accessories include spatulas, grill brushes, drip trays, and heat-resistant gloves. By having a comprehensive set, we will be better equipped to handle various cooking tasks on our Blackstone griddle.
Functionality and ease of use are also vital when choosing Blackstone accessories. Look out for features such as ergonomic handles, easy-to-use designs, and non-slip grips. These factors not only make the cooking process much more manageable but also improve our safety while using the accessories.
Finally, don't forget to consider the maintenance and storage of the accessories. Easy-to-clean and dishwasher-safe options will save us time and effort, while compact and easy-to-store designs will ensure that our workspace remains neat and organized.
By keeping these factors in mind and paying attention to the quality, compatibility, variety, functionality, and maintenance of the accessories, we can make an informed decision and select the best Blackstone accessories to enhance our griddle cooking experience.
Dick's Sporting Goods Blackstone Accessories
If you're in the market for Blackstone accessories, Dick's Sporting Goods is a great place to start. Their website offers a wide selection of Blackstone products, from griddles to utensils to cleaning kits. One of the standout products is the Blackstone Griddle Conditioner, which ensures that your griddle and cast iron are safe and well-seasoned. Another great option is the Blackstone Griddle Cleaning Kit, which includes an 8-piece professional cleaning kit for dirty griddles. Dick's Sporting Goods also offers a variety of Blackstone griddles and accessories, including bags and cookware. With their easy-to-use website and competitive prices, Dick's Sporting Goods is a top choice for anyone shopping for Blackstone accessories.
You can find out the Blackstone products offered by Dick's on their official website.
Walmart – A Great Place for Blackstone Accessories
Walmart offers a wide range of Blackstone accessories that are perfect for any grilling enthusiast. From griddle scrapers to spatulas, their website has everything you need to take your outdoor cooking game to the next level. One of the standout products is the Blackstone 20-Piece Griddle Accessory Kit, which includes everything from a hamburger spatula to kebab skewers. This kit is perfect for anyone who wants to be fully equipped for any grilling situation.
Another great option is the Blackstone Original 5-Piece Griddle Accessory Tool Kit, which includes a spatula, scraper, tongs, and two liquid dispensers. This kit is perfect for anyone who wants to get started with Blackstone accessories without breaking the bank. Walmart also offers a variety of cleaning and maintenance products, including griddle seasoning and cast iron conditioner. With their competitive prices and easy-to-use website, Walmart is a top choice for anyone looking to purchase Blackstone accessories. Whether you're a seasoned pro or just starting out, Walmart has everything you need to take your grilling game to the next level.
Blackstone Pizza Oven Accessories
Making pizza on your Blackstone griddle is a great way to enjoy a delicious homemade pie without having to leave your backyard. To get started, you'll need a few key Blackstone accessories to ensure that your pizza turns out perfectly every time.
First and foremost, you'll need a pizza peel. This is a long-handled tool that allows you to easily slide your pizza onto and off of the hot griddle. The Blackstone Perforated Pizza Peel is a great option, as it features a perforated design that allows excess flour to fall through, ensuring that your pizza slides off easily.
Next, you'll need a pizza stone. This is a flat, round stone that you place on your griddle to help distribute heat evenly and ensure that your pizza crust cooks evenly. The Blackstone Pizza Stone is a great option, as it's made from durable ceramic and can withstand high temperatures.
Finally, you'll need a pizza cutter. The Blackstone Pizza Cutter is a great option, as it features a sharp, stainless steel blade that makes cutting through even the thickest crust a breeze.
With these Blackstone accessories in your arsenal, you'll be able to make delicious homemade pizza on your griddle in no time. Just be sure to choose high-quality ingredients and experiment with different toppings to find your perfect pie.
Frequently Asked Questions
What are the essential Blackstone griddle accessories?
When using a Blackstone griddle, there are a few essential accessories that we highly recommend. Some of these include a griddle spatula that can easily flip and handle various foods, tongs for easily grabbing ingredients, and scraper for cleaning the surface. A griddle cover is also useful for protecting your griddle from the elements when not in use.
Where can I find Blackstone accessories on clearance?
To find Blackstone accessories on clearance, you can check online retailers like Amazon, Walmart, or even Blackstone's official website for sale and clearance items. Don't forget to also check local stores in your area that carry Blackstone products, as they might have exclusive deals or markdowns.
Which stores carry Blackstone accessories?
Blackstone accessories can often be found in many brick-and-mortar stores as well as online retailers. Some popular stores that carry Blackstone products include Home Depot, Lowe's, Walmart, and Target. You can also find Blackstone accessories on their official website and online marketplaces like Amazon or eBay.
What type of utensils are recommended for a Blackstone griddle?
For the best griddle cooking experience, we recommend using utensils specifically designed for griddle cooking. This includes large, flat-surfaced spatulas, long-handled tongs, heat-resistant gloves, and scraper tools. Using the right utensils will ensure that your food is cooked properly and makes cleaning up afterward an easier task.
How can I maintain and protect my Blackstone grill?
Maintenance and protection of your Blackstone grill are essential to prolong its life. We recommend regular cleaning of the griddle surface using a scraper tool to remove any food debris and a grill brush for a deeper clean. Additionally, seasoning your griddle with a thin layer of oil after each use helps prevent rust and maintain a smooth cooking surface. Don't forget to also invest in a quality griddle cover to protect your grill from the elements when not in use.
What are some popular Blackstone griddle recipes?
Some popular Blackstone griddle recipes that you can try include breakfast dishes like pancakes, bacon, and eggs. Moving on to lunch and dinner, you can try cooking burgers, fajitas, stir-fries, or even a pizza. Griddles are versatile cooking appliances, so don't be afraid to experiment with various dishes and ingredients.