Brussels Sprouts are not something people usually love to eat. However, combined with bacon, these veggies are simply irresistible. Plus, inc contrast with boiled or steam mushy Brussels sprouts, baked ones will surprise you with its fantastic taste. Plus you can always use the leftovers for a salad.
Ingredients
1½ pounds Brussels sprouts
2 tablespoons olive oil
Kosher salt and freshly ground black pepper
6 bacon slices, cut into 1 inch pieces
Instructions
Preheat oven to 400 degrees.
Clean and trim Brussels sprouts and cutting any very large heads in half through the core. (It's fine if some of the outer leaves fall off – just bake those along with the rest of the sprouts. They get extra crispy and are delicious!)
Place the Brussels sprouts in a large bowl and drizzle with olive oil, tossing to evenly coat.
Pour the Brussels sprouts onto a large sheet pan (you want them to be in a single layer). Sprinkle with salt and pepper. Then evenly sprinkle the bacon pieces over the Brussels sprouts.
Roast in the oven for 20 to 30 minutes, turning halfway through the cooking time, until golden and lightly caramelized.
Serve immediately.
Nutritional Info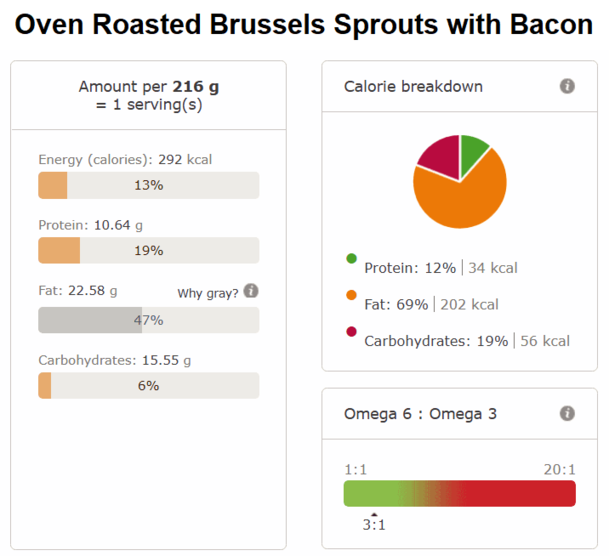 We also recommend you this recipe: