Sweet & Delicious Applesauce Muffins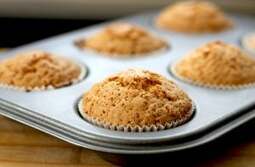 We'd like to present you a delicious little healthy recipe for applesauce muffins!
This highly nutritious recipe contains oatmeal, cinnamon and honey, and it is easy to make with no additional sugar or butter.
All you need are the ingredients listed below and not more than 40 to 50 minutes of your time.
Who said muffins can't be healthy? Freely enjoy these wonderful little pleasures with your loved ones, and even your kids.