When you think of the keto diet, fast food may not be a thought that comes to mind right away – after all; most fast food places are usually loaded with carbs!
But never fear: there are plenty of delicious and healthy options available if you know what to look for. From Burger King to Chipotle (yes, really!), here are 10 must-try keto fast food restaurants that will satisfy your carb cravings without breaking your dietary rules.
So get ready to fill up on mouthwatering burgers and tacos minus the guilt – these picks might just change your view on your fast food meal forever!
What Can I Eat at a Fast Food Place on Keto?
Eating out can be DIFFICULT when trying to stick to a Keto diet, but that doesn't mean it's impossible. There are actually tons of options you can choose from when dining at a fast food place. Let's take a closer look:
1. Burger King
At Burger King, the POSSIBILITIES are wonderfully bountiful for those on the Keto Diet! Good news! You can still have a plain Whopper without the bun, with only 240 calories and 0 carbs [1].
Plus, they have salads like Garden Grilled Chicken Salad and TENDERGRILL® Garden Salad, containing only 280 calories which are perfect for your low-carb diet.
They even offer a Grilled Chicken Sandwich, plain with no bun, at an amazing 160 calories and 0 carbs, as well as a TENDERGRILL® Chicken Sandwich (plain with no bun): 200 calories, 0g carbs.
If you're looking for breakfast, try the Sausage, Egg & Cheese Croissan'wich (470 calories) — swap out that croissant for a lettuce wrap or have your eggs as a side dish.
There's also Coffee Monster Frosted, made with SUGAR-FREE sweetener if your sweet tooth needs to be satisfied. With all these delicious options, no one will feel like they are missing out on fast food while on Keto.
2. Chipotle
Chipotle is fast becoming the go-to fast food place for a Keto friendly meal. While they DON'T have a specific keto menu, there is plenty to choose from that will satisfy your cravings.
Start off with the Chipotle bowl, made with romaine lettuce and topped with carnitas, steak, chicken or barbacoa. Adding guacamole and sour cream will give you HEALTHY fats as well as a delicious flavor.
Or opt for tacos in lettuce wraps with your favorite protein, cheese, and salsa — all of these items are low in carbs.
No matter what you choose, Chipotle always has DELICIOUS low-carb diet options that are sure to hit the spot.
3. McDonald's
At Mcdonald's fast food restaurants, it can be hard to find something fast, EASY and low-carb to snack on. But fear not — they've got your keto diet covered.
For breakfast, try the Sausage McMuffin with Egg (no bun) at 340 calories and only 3g net carbs [2]. Opt for the grilled chicken Caesar salad with a side of grilled chicken strips for lunch or dinner.
And don't forget the Egg McMuffin (no bun), which is an AMAZING 250 calories and 0 grams of carbs.
You can always go with the classic McDouble, hold the bun of course.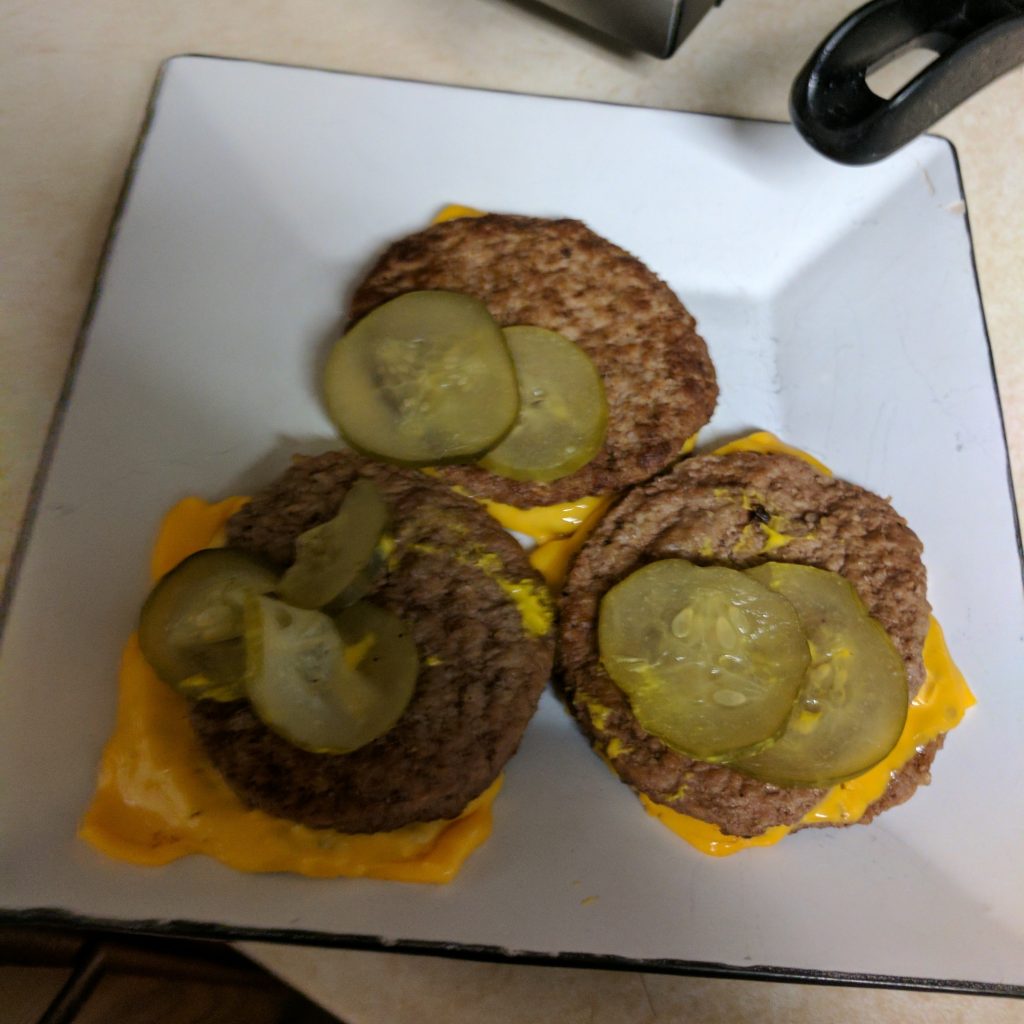 McDonald's also offers a variety of coffees, including an iced coffee with sugar-free syrup for only 140 calories and 2g net carbs [3].
4. Taco Bell
Taco Bell is fast becoming a Keto fast-food restaurant FAVORITE — and for good reason!
For breakfast, try the sausage breakast Burrito WITHOUT the tortilla (270 calories) or an order of their Power Menu Bowl with steak (no beans) at only 260 calories.
You can't go wrong with a crunch wrap supreme for lunch and dinner, minus the tortilla. You can also have their salads (minus the chips!) or double up on cheese quesadillas for a fast-food keto win!
5. Pizza Hut
Yes, you read that right. Pizza Hut has keto-friendly fast food options!
For STARTERS, order the Garden Party Salad with grilled chicken for a tasty and low-carb meal. Or try the new flatbreads with chicken, veggie medley and cheese — they are only 4g net carbs!
None of the pizza options are keto-friendly, but if you want to at least get it as low as you can then go with the "Thin n' Crispy" crust, which comes in at just 150 calories per slice.
Pro Tip: Ask for an extra side of marinara sauce to dip the crust in — it makes a delicious snack that's sure to satisfy your fast-food cravings.
6. In-N-Out
In-N-Out is a fast-food favorite, especially among keto dieters. The fast food chain offers a "Protein Style" option, which SUBSTITUES lettuce for buns — and you can even add extra cheese and bacon!
The Double-Double Protein Style is only 400 calories (minus the bun) with 20g of fat, 28g of protein and 0 grams of carbs.
You can also get grilled cheese, salads and burgers without buns, so there are plenty of fast food keto options to choose from.
7. Arby's
Arby's fast food restaurant has some surprisingly keto-friendly options.
For BREAKFAST, try the Angus steak and egg burrito (only 380 calories). Or have their classic Roast Beef Sandwich without the bun — it's just 80 calories with 5g of fat, 19g of protein and 0 grams of carbs.
For lunch and dinner, try the roast beef classic without buns. Or opt for their roast turkey farmhouse salad with light Italian dressing — it's only 260 calories, 1g of fat, 15g of protein and 4 grams of carbs.
8. Subway
Subway fast food restaurants offer a VARIETY of salads, soups, and sandwiches without the bun — all of which are suitable for a keto diet.
Start with their classic chopped salad, or try their 6″ Italian BMT sandwich — just 375 calories and 7g net carbs!
They also have a Rotisserie-Style Chicken Caesar Salad without dressing that's only 150 calories, 8g of fat, 36g of protein and 4 grams of carbs [4].
So the next time you find yourself at Subway fast food joint, don't be afraid to CUSTOMIZE a meal to fit your keto diet.
Pro Tip: Avoid the creamy dressings and opt for salt, pepper, vinegar or olive oil for flavor.
9. Five Guys
Five Guys fast food restaurant offers a variety of burgers, sandwiches and hot dogs without the bun — PERFECT for a low-carb diet.
Order their classic bacon cheeseburger with no bun (only 660 calories) or their little "bunless" burger (just 220 calories). Just top your burger with tomatoes, pickles, lettuce and grilled onions for added flavor.
You can also get their bacon hot dog (625 calories) or veggie sandwich (440 calories). For sides, try the grilled cheese (470 calories) or a side of jalapeno peppers (only 3 calories!).
10. Chick-fil-A
Chick-fil-A fast food restaurant offers a variety of keto-friendly OPTIONS.
Start with their grilled chicken nuggets (just 140 calories). You can also try their Cobb Salad with Chicken — it's only 350 calories with 19g of fat, 28g of protein and 5 grams of carbs.
For something a little more indulgent, order the Classic Grilled Chicken Sandwich without the bun (only 340 calories) or their Hash Brown Scramble Burrito Bowl (350 calories).
So next time you're craving fast food, don't be afraid to indulge — just remember these fast food places with keto options! ​
What Fast Food Chicken is Keto-Friendly?
When it comes to fast-food chicken, there are PLENTY of keto-friendly options. KFC is one fast food chain that offers Kentucky grilled chicken strips at only 143 calories per serving and 0g net carbs.
Popeye's also has a grilled chicken breast, with just 380 calories per serving and 0g net carbs.
For fast food BURGERS, you can opt for the Carl's Jr. Charbroiled BBQ Chicken Sandwich (no bun) at 390 calories and 1g net carbs or Wendy's Grilled Chicken Sandwich (no bun) at 120 calories and 0g net carbs.
So no matter what fast food joint you decide to go to, plenty of DELICIOUS keto-friendly options are available.​​​​
How Do I Order Takeout on Keto?
If you're following the ketogenic diet, making sure what you order for takeout fits those dietary needs can be a CHALLENGE.
Fortunately, plenty of options make it easier to enjoy the convenience of takeout foods without feeling guilty about going off your chosen eating plan.
To cover all your bases, always look for clear indications on MENUS that dishes are low-carb or made without any high glycemic ingredients like grains and added sugars.
Look for salads, subs and sandwiches with FRESH full-fat cheeses and meats as fillings, or ask if side dishes like vegetables and a side salad can be served in lieu of fries.
You'll also want to double-check sauces and condiments to make sure they adhere to keto guidelines – for instance; ketchup is a no-no since it's heavy with sugar-laden syrup.
If you need help finding the right foods fit for a ketogenic lifestyle, DON'T be afraid to call ahead and discuss meal modifications with the restaurant staff; it's better to play it safe than sorry when you're careful about what you put in your body!
Frequently Asked Questions
Can I Eat KFC on Keto?
Yes, you can eat KFC on keto! KFC's grilled chicken is an excellent fast-food keto option — it comes in at only 220 calories per serving and 0g net carbs.
For sides, opt for green beans or a biscuitless bowl. If you're feeling adventurous, try the mashed cauliflower with gravy for a delicious and low-carb side dish.
Is Chinese Fried Chicken Keto Friendly? ​​​​​
Chinese fried chicken is not keto-friendly, as it is usually breaded and deep-fried in oil. Instead, look for Chinese fast food options that offer grilled or steamed meats and vegetables — like stir fry dishes.
Can I Have A Pizza On Keto?
Unfortunately, pizza is not typically keto-friendly due to the high carb content of the crust and added sugar in sauces and high-carb toppings.
If you're craving a fast food pizza fix, opt for a cauliflower-based "crustless" or "flatbread" option.
Conclusion
Whether you're on the go or just don't feel like cooking, fast food can be a great option for Keto dieters.
Sticking to your diet won't be as hard with a bit of research and finding the right fast food places with Keto options to choose from. So what are you waiting for? Dig in!