Keto 4th of July Recipes are thought to be challenging because most of the menus include desserts and appetizers that are indeed sweet and full of carbohydrates. While it is challenging, it's not impossible. Therre are many keto fourth of July recipes.
Celebrating the 4th of July while on Keto Diet is not that difficult actually. Just stick to basics in preparations of your menu and everything will be fine.
Moreover, learning new Keto recipes can be very exciting especially if you are to celebrate the 4th of July with your family or friends and you want to stick to your diet, at the same time, they will enjoy your menus.
Most often, the popular 4th of July foods are grilled with fresh fruits and vegetables on the sides with some red-white-blue decorated foods. Red white and blue colored foods, mostly desserts and appetizers are usually the highlights of the menu because it symbolizes the holiday.
What about Keto friendly 4th of July Recipes? Well, there is also plenty to choose from besides the grilled dishes. From the 4th of July appetizers and desserts to the 4th of July cocktails, you will never miss your Keto and Low-Carb Diet. Furthermore, you can show your family and friends that your healthy kind of food can also be delicious.
Below are some low carb fourth of July recipes. Don't forget to Pin them into your Pinterest board for later. Share these great recipes with your friends, too.
To start with, this appetizing Low-carb 4th of July Summer Berry Trifle is just perfect for the holiday. The design is very easy to create indeed. With only a few ingredients, this trifle is very simple to make. What you need are some cream cheese, vanilla extract, almond extract, heavy whipping cream fresh blueberries, and strawberries and you can add in some erythritol if you like it sweeter.
Get the full recipe here.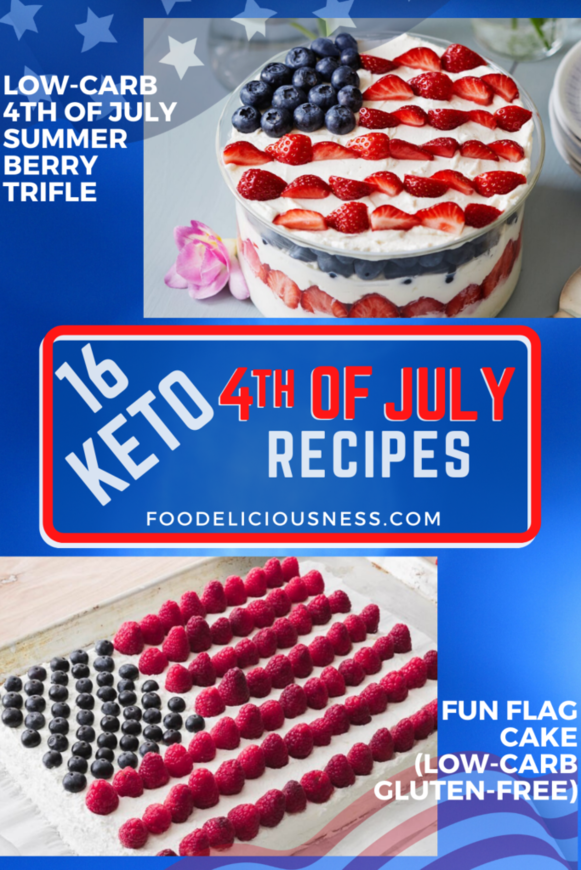 You will enjoy this Fun Flag Cake. You can call it meringue or pavlova but it is definitely Keto and designed for the holiday. I included this as one of the Keto 4th of July recipes for being very simple to make too with few ingredients only. You'll need some egg whites, cream of tartar, powdered erythritol, whipped cream, raspberries, and blueberries. You may add vanilla extract, too if you like. You are also going to need a little vinegar for wiping bowl and whisk.
Get the full recipe here.
---
This No-Bake Mini Berry Cheese Cake is best not only for the 4th of July but also for any occasion. You'll find it very easy to make, too. There are only a few ingredients to gather like some dedicated coconut, academia nuts, butter or virgin coconut oil, freeze-dried blueberry powder, powdered erythritol, some drops of stevia extract and a bit of cinnamon.
Get the full recipe here.
This cute little cake will top them all as it will be ready in just a few minutes. This very-low-carb keto 4th of July Mug Cake will surely become one of your favorites aa well for its health and wellness benefits besides being so luscious To make this patriotic dessert, you'll need some melted butter, sweetener, eggs, and coconut flour. To finish up with the fillings, you'll need some canned coconut cream or whipped cream, sweetener, raspberries, and blueberries.
Get the full recipe here.
---
See how they look nice and appetizing! This Red, White and Blue Berry Parfaits, will be a hit with your friends who thought that being on a diet can't enjoy exquisite desserts. This Keto 4th of July recipe is very simple to make. You will only need some thawed frozen strawberries, chia seeds, some stevia, and water for the red layer. For the white layer, you'll need some coconut cream, coconut milk or almond milk, some vanilla powder or extract, and some sweetener if you like it sweeter. Then top with blueberries.
Get the full recipe here.
It's those red, white, and blue 4th of July Deviled Eggs that makes the enjoyable treats. You can only find them on the 4th of July holiday. To make, you'll need some eggs, of course, Red and Blue food coloring, Some mayonnaise, dijonnaise, some dill pickle juice, and salt and pepper to taste.
Get the full recipe here.
You got the 4th of July pizza too. This Fruit Pizza is perfect for the 4th of July party and surely everybody will enjoy with this new kind of pizza. Fruity but still low carb and easy to make. You will need some almond flour, coconut flour, erythritol vanilla extract eggs and butter for the sugar cookie. for the topping, you'll need cream cheese, heavy cream, liquid stevia, and vanilla extract. And finally, its blueberries, strawberries, and blackberries for the fruits.
Get the full recipe here.
Another 4th of July treat and it's a pizza again!. Thie Low-Carb Patriotic Dessert Pizza can be the center of attraction to your 4th of July celebration and surely everyone will love this Keto Pizza even by non-dieters. For the ingredients, you'll need to have cheese cream, heavy cream, vanilla extract, vanilla stevia extract, and fresh blueberries and raspberries. For the base, you'll need the vanilla wafers.
Get the full recipe here.
---
If you are a burger enthusiast, you can include this in your 4th of July menu. And yes! It looks like the one from the In ' Out Burger, that's why it's called Copy Cat In 'n Out Burger. Undoubtedly everyone will enjoy this Keto burger. To make the burger, you need a pound if ground beef, salt and pepper, and yellow American cheese. For the sauce, you'll need some Mayo, sugar-free ketchup, mustard, diced pickles, pickle juice paprika, garlic powder, and salt. And for the toppings, you'll need some lettuce, pickles, yellow onion, and a tomato.
Get the full recipe here.
Great for summer, this flavorful Grilled Vegetable Salad with Olive and Feta is also perfect to include in your 4th of July menus along with your grilled meats. It is only simple to make with few ingredients too. You'll need some eggplants, zucchinis, red bell pepper extra virgin olive oil, garlic cloves, dried oregano, crumbled feta and some sea salt and pepper.
Get the full recipe here.
---
Cauliflower is so nutritious and perfect to replace rice. This Chicken Cauliflower "Couscous" Salad doesn't need to have grains in it and is still great to include in your red white and blue holiday celebration menu. To make it, you'll need some diced chicken breast, cauliflower, cucumber, pepper, some lemon juice, olive oil, fresh parsley, onions, garlic powder, cumin powder, and some salt and pepper.
Get the full recipe here.
These colorful and delectable Pimento Cheese Stuffed Peppers are so appetizing and ideal for the 4th of July holiday. Your friends and family will certainly enjoy them. It is easy to prepare and you can even do it a day ahead too. The ingredients are cheddar cheese, red bell pepper, pimento peppers, or mini peppers, small jalapeño peppers, pickled jalapeño peppers, vinegar from the pickled jalapeños jar, mayo, garlic powder, regular paprika, some salt, and sweet mini peppers.
Get the full recipe here.
---
Antipasto literally "means before the meal."It is a tradition in Italy to serve the first course before the main meal. Something like an appetizer. These Antipasto Kebabs are an excellent choice for an appetizer too during the 4th of July holiday. It is so enticing and healthy at the same time. They are also very easy to prepare. You will need some baby heirloom tomatoes, artichoke hearts, Spanish queen green olives, Kalamata olives, fresh mozzarella balls, Pepperoncinis, and sliced Salami. Other options can be cubed sharp cheddar cheese, pepperoni, prosciutto, marinated mushrooms, roasted red peppers
Get the full recipe here.
Another simple but tasty appetizer is these Greek Salad Skewers. They are actually Greek Salad but served on very small skewers. They are very easy to make. What you need are feta cheese, cut into cubes, Dried oregano, Olive oil, Kalamata olives, Grape tomatoes, and mini cucumbers,.
Get the full recipe here.
---
What is there to celebrate without the drinks? These Low-carb Sugar-free Blueberry Mojitos are what you need for this holiday. The minty flavor of this drink is so refreshing that everyone will surely enjoy. How o you make them? You'll need these ingredients: fresh blueberries, powdered Swerve Sweetener, some mint leaves, white rum, fresh lime juice, and club soda. Don't forget to have some extra Blueberries and mint leaves for garnish
Get the full recipe here.
Low-Carb Strawberry Basil Bourbon Smash is another very refreshing and tasty cocktail drink to try. It's also perfect for the celebration of the 4th of July. It's easy to make with only a few ingredients like strawberries, basil leaves, powdered erythritol, bourbon, fresh lemon juice, and a pinch of ground black pepper.
Get the full recipe here.
In addition to this Keto 4th of July recipes, you may also check out these other recipes below. And if you're ever out on the road and are in desperation mode here are some keto snacks you can find at the gas station.