What's up everybody? I finally made it to Jollibee! This time we got the chicken sandwich, you know if there's a chicken sandwich out there I'm gonna find it. This one took me a little longer to find than the others but I'm excited about the Jollibee Chicken Sandwich Review.
Related Content:

Best Food at Sheetz
Anytime I go on a trip I have to canvas the area and see what type of food options are around. Jollibee is something I've wanted to try for years so I made sure to cut out some time to go check out this fine Filipino establishment. I love fried chicken and especially a fried chicken sandwich.
Without further ado, let's get into it. It's time to devour this delicious fried chicken.
Related Content: Jollibee Chicken vs KFC
This chicken sandwich has the mayo on both top and bottom and what looks like a brioche bun. There's crispy chicken. This is heavy duty and kind of looks like Popeye's. Looks like serious crunch is going to be in this thing.
In order to make this Jollibee trip happen, I had to cram two meals in a very short window because I'm flying out of town today. I'm glad I did because thing looks awesome. Like I said, it's going to be very crispy. They told me I was going to have to wait even or eight minutes for this glorious sandwich. I said perfect that means it's gonna be fresh! You know how important freshness is, especially with a chicken sandwich.
I just pulled across the lot to enjoy this. Don't mind me, I'm just in a deserted parking lot eating everything on your menu.
This sandwich is awesome. When it comes to fast food, Jollibee is top shelf. The brioche bun was soft with a crispy edge. There was a perfectly fried chicken breast filet. If you ever see a Jollibee definitely try to check it out. This just might be one of the best chicken sandwiches out there!
From now on anytime I see one I will. I think they have them in DC and in other different parts of the country, but not where I live. It's definitely worth going out of your way to get this awesome chicken sandwich if you're a fast food chicken sandwich lover, which you know with the chicken sandwich craze that's been going on the last couple of years, who isn't? Especially when the chicken breast filet is fried to perfection like this one. As far as chicken sandwiches go this one just might be the gold standard.
The chicken at Jollibee is something you definitely need to try. To me, it's just a little better than the alternatives out there. This is the chicken sandwich in this video, but the Chickenjoy is chicken breasts, wings and thighs and it's definitely something worth checking out. They serve it with a cup of gravy, which is great to dip not only your chicken in, but also the fries.
If you want to try something unlike anything you've ever had, then go ahead and try the Jolly Spaghetti. The way it's seasoned is very unique. There is ground meat in there that's unlike anything I've had in spaghetti. You would never confuse it with your Italian grandma's spaghetti, but it's still something you can certainly enjoy.
Is the Jollibee Chicken Sandwich Spicy?
No, the Original Chicken Sandwich at Jollibee is not spicy. BUT, there is a Spicy Chicken Sandwich at Jollibee that does have a bit of spiciness, but nothing crazy. What makes it spicy? There's a Sriracha mayo on it, along with some jalapenos. It adds some spice, but you should be able to handle it. I have faith in you. But spicy or not it's a delicious addition to the sandwich.
Is Jollibee Chicken Sandwich Better Than Popeyes?
Yes, the Jollibee Chicken Sandwich is better than the Popeyes Chicken Sandwich. This will be seen as controversial by many, but it's true. The thing that holds Jollibee back is there are not as many locations in the United States, but if the masses were exposed to the greatness of Jollibee Chicken Sandwiches, they would undoubtedly eat them up on a mass scale.
What is Better Jollibee or KFC?
Jollibee is better than KFC. You may be seeing a trend developing here, but here at Foodeliciousness we hold Jollibee in very high regard. The chicken sandwich and the Chicken Joy are both amazing options. Don't get it twisted, Kentucky Fried Chicken is great fast-food chicken, but we give the nod to Jollibee once again.
And if you want to take it another step, Jollibee has better side dishes than KFC. The adobo rice, the fried chicken, the Jolly Spaghetti, the fries with gravy, there are so many delicious options for side dishes. If we're being honest, the KFC mashed potatoes and gravy and cole slaw has a special place in my heart, but it's tough to make a case for it being better than Jollibee side dishes.
Trying Jollibee for the First Time
Jollibee Peach Mango Pie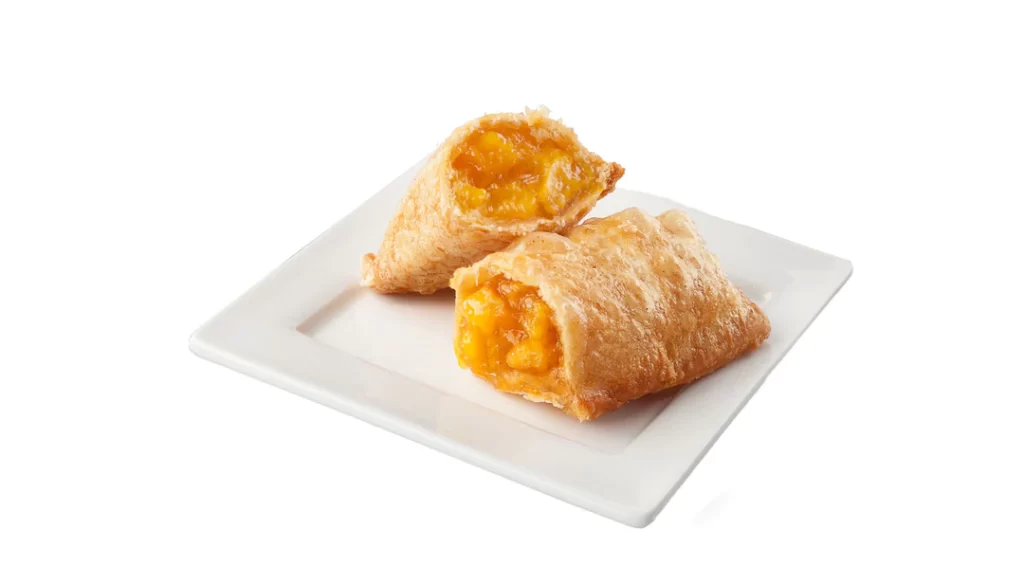 Then when it's time for dessert they absolutely have you covered. They offer something which reminds me of the Filipino version of the McDonald's Apple pie, which is the Peach Mango Pie. It comes in a crispy pocket just like McDonald's offers, but the filling is very different. This is an awesome dessert that you should definitely try if you get the chance.
Jollibee Customer Service Was Fantastic
The customer service at Jollibee was incredible. A lot of smiling Filipino faces. They made me feel very welcome and provided excellent service during my time. Best of all, they were totally cool with me loitering in their parking lot while I take down a couple of bags of their awesome food. It's great to feel valued and welcome when you are in an unfamiliar spot and they absolutely did that for me.
Conclusion: Jollibee Has a New Fanboy
Thanks for checking out my Jollibee Chicken Sandwich review. This fast food restaurant has a new fan. I look forward to trying the spicy chicken sandwich and spicy deluxe.