Surely you have tried one of those delicious wraps and dumplings already, and made at least one of them, too. But do you know how to make wrappers for your wraps?  I think the most common that you probably have thought of the easiest are the leaves of lettuce or cabbages. How about the others?
Tortillas, spring rolls, egg rolls, burritos, and samosas are wraps. We can also consider dumplings, wonton, and gyoza too as wraps simply because there are fillings in each of them.
If you are looking for these homemade wrappers recipes, you are on the right page. We have gathered 14 different recipes on How to make Wrappers for your Wraps that you can choose from and they are all easy to make. Indeed you will enjoy making them.
But first, don't forget to Pin them into your Pinterest Board and share it with your friends as well.
To start with, there are two spring roll wrappers here but they have different ways on how to make them. Check them out and choose which one do you prefer. Some people who are used to making spring rolls also use different wrappers depending on what kind of ingredients and whether they cook them or not.
This Lumpia Wrapper is a version of Spring Roll Wrapper that is thinner but tough enough to hold the ingredients inside. This is very popular in the Philippines, Nigeria, and West Africa and it's already gaining its popularity in other parts of the world. To make this homemade wrapper, you will only need some flour, cornflour/starch, salt, and some water.
Get the full recipe here.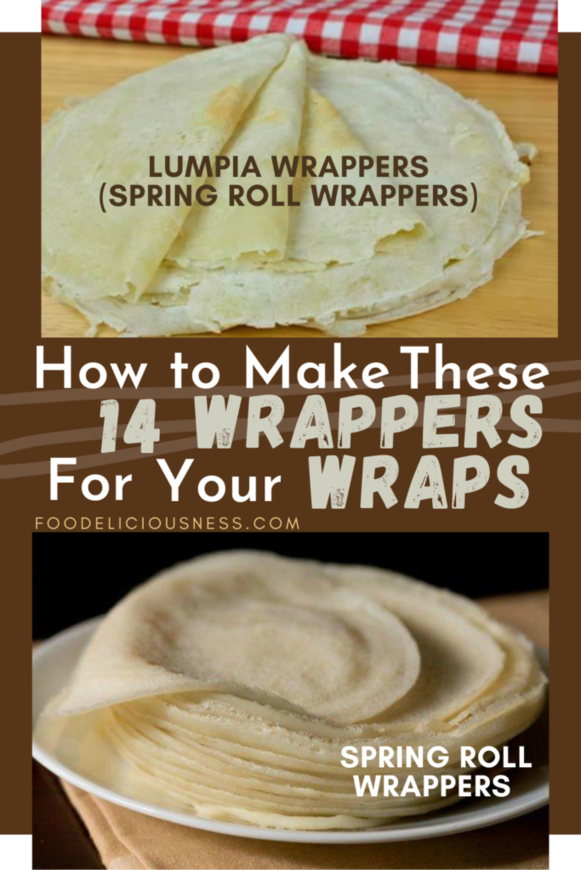 Another version of Spring Roll Wrapper but cooked differently. This homemade wrapper is almost the same as the first one but the consistency before it is cooked is different. Ingredients are All-purpose flour, cornstarch or cornflour, water, some salt, and some cooking oil.
Get the full recipe here.
---
Are you into tacos, fajitas, burittos and quesadillas. Then you should know how to make this Homemade Soft Tortilla Wraps. With only 5 ingredients,  you will be surprise how easy this homemade wrapper is to make. Have your flour ready (white or wheat), with some salt, baking powder, vegetable oil and water.
Get the full recipe here.

And if you are into low-carb or Keto, these Keto-Low-Carb Tortillas are just perfect for you. Also very simple and easy to make with only 5 ingredients plus some optional. Bring out your almond flour, flax meal, psyllium husk, an egg, and some water. Add salt if you want it a bit salty.
Get the full recipe here.
---
Are you into Sourdough bread lately? Then surely you have sourdough starter discards. Use it in this No-Rolling Homemade Sourdough Tortillas. And there's no need for a roller here. Get your sourdough starter ready with the flour, some sea salt, coconut oil, and water.
Get the full recipe here.
Make this Rainbow Tortilla Wraps and make your wrap more colorful and appetizing. Moreover, the colors are created naturally with pureed vegetables. You will need your bread flour, baking powder, natural yogurt, and olive oil. to create those colors, you will need butternut squash, wilted spinach, and beetroot.
Get the full recipe here.
---
Here is something you should try. These Edible Rice Papers seems delicate to make. But you will be surprised how easy they are. Furthermore, the wrap you will be making is so appetizing. To make them, you will need some flour, water, stockpot, a bowl, rolling pin, quilting hoop, cheesecloth, and a cooling rack.
Get the full recipe here.
Here is a very easy Homemade Dumpling Wrappers.  With just the All-Purpose flour and water, you can make a lot of dumpling wrappers. And you know that dumplings can be great for parties and gatherings with friends.
Get the full recipe here.
---
Chinese egg rolls have become popular not only in China but also in many countries. You can find many Chinese Egg Roll Wrappers in groceries and supermarkets. They can be made very easily, too. There are 2 versions of these homemade wrappers: cooked and uncooked. To make them, you will need all-purpose flour, ice-cold water, large egg, some salt, and cornstarch
Get the full recipe here.
Here is another healthier version of homemade wrapper. These Gluten-free Egg Roll Wrappers is perfect for you if, most probably, for health reason, that you need to consume gluten-free foods only. You will need some brown rice flour, tapioca starch, xanthan gum, pink salt, an egg, and cold water.
Get the full recipe here.
---
Har Gow also is known as 'Xia Jiao' or 'Ha Gow' is a Cantonese traditional, translucent dumpling with shrimp fillings. These Paleo Gluten-Free Har Gow Dumpling Wrappers are perfect for someone who is Paleo Gluten-free diet or preferred the healthier version. To make these, you need sweet potato or potato starch, tapioca starch, sea salt, avocado oil, and hot boiling water.
Get the full recipe here.

Wonton is another popular dim sum cuisine with some fillings wrapped in it. These are then steamed, fried, or included in a soup. In these homemade  Chinese Wonton Wrappers, there are three ways to make them. But first, you'll need to gather All-Purpose flour, bread flour, eggs, some salt, and water. Otherwise, you don't need bread flour if you are only going to make the first recipe. Moreover, you don't need an egg for recipe 2.
Get the full recipe here.
Gyoza Wrappers are wrappers for traditional Japanese potstickers or Japanese dumplings. They may look the same as Chinese dumplings but the difference is these Gyoza wrappers are smaller and thinner. Ingredients are very easy to find. In fact, you may have them in your kitchen. If you opt for homemade wrappers, you will only need some all-purpose flour, potato starch or corn starch, some sea salt, and water.
Get the full recipe here.
Although Samosa is a known popular cuisine from India, it originated in the Middle East and Central Asia. Its rich taste and diversity made it around the world. Fillings can be of different varieties depending on a person's choice of diet or from what country or region he lives in. Homemade Samosa Sheets, like any other wraps, can be made very easily with 3 ingredients. You will only need some all-purpose flour, salt, and oil.
Get the full recipe here.
Which wrapper do you like best? With only simple ingredients, you will be able to make most of these wrappers and try them on with different Wrap Recipes. Which will be shared in another article.
Don't forget to Pin into your Pinterest Board for later.
You may also like
SAUERKRAUT – Health Benefits with Highest Vitamin C and How to Make It
20 Vegan Keto Recipes – Best of Both Worlds in Health and Weight Loss
RECIPES WITH PEANUT BUTTER – 20 Best Healthy Recipes with Peanut Butter