Being able to get Sheetz food without getting out of your car is freaking awesome. That said, if you've never done it before you may be wondering, "how does the Sheetz drive-thru work?" Do you order on the app ahead of time? What's the best way to use the Sheetz drive-thru? Let's clear up all those questions and get you ready to get some Sheetz food on the go.
How to Order in the Sheetz Drive-Thru
Alright, so you're sitting at your house thinking you'd really like some Sheetz food but you don't want to be seen by the general public. Let's go get some food at the Sheetz drive-thru.
There are two ways to go about this:
Order in the app and choose drive-thru as the pickup option when you check out.
Go to Sheetz and use the touchscreen in the drive-thru to place your order.
How to Order in the Sheetz App and Use the Drive-Thru
Open up the Sheetz Mobile App, choose pick up for your order and make your delicious food and beverage choices.
When you are checking out you will have the option to choose either pick-up inside, curbside or drive-thru. You're gonna choose the drive-thru.
Pull up to the first window and let them know you're here for your order in the mobile app. *PRO TIP* – Some Sheetz locations have a break between the touchscreen where you place drive-thru orders and the windows. This allows you to cut those folks off and grab your order. Take advantage of this!
After you let them know about your order they'll either hand it to you right there or direct you to the second window where you'll wait for your order to be handed to you.
Enjoy your delicious Sheetz food!
How to Order Using the Sheetz Drive-Thru Touchscreen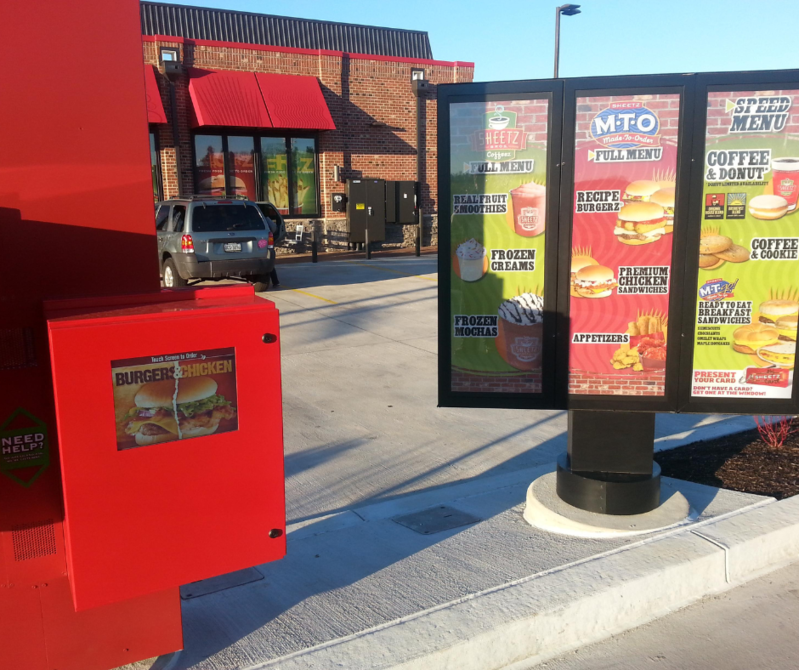 Proceed through the Sheetz drive-thru line and pull up to the touchscreen kiosk. Look for a stylus and this makes the experience much easier than touching with your hands.
Make your delicious Sheetz choices.
Process to the first drive-thru window and make payment.
Proceed to the second drive-thru and wait for your food to be handed to you.
You now have all you need in life, proceed to your destination.
What Can You Get at the Sheetz Drive-Thru?
You can get anything in the app through the Sheetz Drive-Thru. This includes MTOs, coffee & specialty drinks, convenience items and ice cream. Basically, anything you'd want in life can be obtained through the Sheetz Drive-Thru. Oh and at some locations you can even get beer!
Conclusion – The Sheetz Drive-Thru is a beautiful Thing
If you have a Sheetz with a drive-thru in your area, it's certainly time to take advantage of it. It's amazing to be able to place the order in the app and pull up to the drive-thru window and immediately be handed a bag of deliciousness.