Comforting and warm liquid dessert, that's what our today's Hot Cider Nog is. Apple cider and eggnog, served hot with cinnamon and apples (optional). Add some whipped cream and you'll have a perfect drink for your Christmas party!
Ingredients
2 cups half and half
1/2 cup milk, 2% or whole
one and a fourth cups apple cider
2 large eggs
1/2 cup sugar
2 tablespoons brown sugar
one fourth teaspoon cinnamon
1/4 teaspoon freshly grated nutmeg, plus more for topping
one fourth teaspoon salt
1/2 cup bourbon
whipped cream for topping
cinnamon sticks
apple slices
Instructions
Place the half and half, milk, cider, eggs, sugars, cinnamon, nutmeg and salt in a large saucepan. Heat over medium-low heat while whisking constantly (so you don't have scrambled eggs!) for 15 to 20 minutes, until the nog thickens slightly and can easily coat the back of a wooden spoon. Remove from the heat but continue to whisk for another minute or two.

Stir in the bourbon if desired, either in the entire pot or a few ounces into each glass. Serve in mugs with some fresh whipped cream for topping, a cinnamon stick, apple slices and a few grates of fresh nutmeg.
Nutritional Info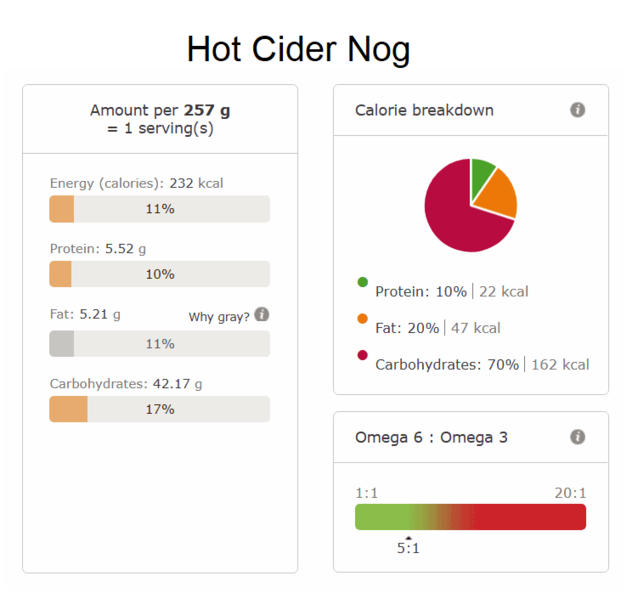 You have a thing for winter hot drinks? Try also: