Homemade Bubble Tea Recipes are hitting the internet search engine nowadays. A lot of people are into it especially the young ones. 
What is bubble tea anyway?
Bubble Tea is also called Bubble Milk tea, Boba Milk tea, Tapioca Pearl Milk Tea, or Pearl Milk tea. The name Bubble in this Bubble Milk Tea is not about the small bubbles you find floating on top of this refreshing drink. Those are the small, chewy, pearl-like balls at the bottom.
Bubble Milk Tea is originated in Taiwan in the 1980s. The ingredients are blended with ice and then tapioca pearls are added before serving.
There are 2 categories: the first is tea without milk and the other one is milk tea. The choices of black tea, green tea, and oolong tea combined with varieties of flavors of fruits, and non-fruits made these varieties. Creams such as powdered, condensed milk, full or skimmed milk, non-dairy such as almonds, coconut milk, and other creams of choice are added.
It is sweetened with refined sugar, brown sugar, honey, maple syrup, and other sweeteners. Sugar substitutes such as stevia, erythritol, swerve, and other carbohydrates and calorie-free sweeteners have been recently used.
Tapioca Pearls are then added in the tea mixture, thus, earned their name Bubble milk tea. These are small, translucent, round starch called tapioca produced from cassava. Tapiocballs have varied forms. These include the original black, clear, mini, flavored, sweetened, and popping.
Today, Bubble milk tea is very popular that you can find in many places, not only in Asia but also in America and Europe. Some restaurants and beverage shops started serving the refreshment. Moreover, there are also hundreds of new tea outlets that serve differently flavored and specialty milk teas.
Is Bubble Milk Tea healthy?
Teas like green tea, oolong, and black tea have many health benefits and rich in anti-oxidants. They are great when drank as it is or with other tea and herbs. However, when they are mixed with other ingredients, values may change. It can be better or worse depending on the add-ons.
To have an idea here is a nutrition fact for Dry Tapioca Pearls:
Serving size: 76grams (½ cup) of dry tapioca pearls 

Calories

272.1 Cal

Total Fat

0.0 g

Protein

0.1 g

Total Carbohydrates

67.4 g

Sugar

2.5 g

Dietary Fiber

0.7 g

Sodium

0.8 mg

Potassium

8.4 mg

Calcium

15.2 mg

Iron

1.2 mg
For granulated sugar, 1 teaspoon has 14 calories and 4 grams of carbohydrates. The rest is 0.
There are other kinds of sweeteners too with varied values. Then there's the creamer of different kinds as well, and the type of fruits and flavorings, too.
I guess you have an idea already. There's nothing wrong enjoying and refreshing yourself with the Bubble Milk Tea or Boba Milk Tea but everybody knows that too much is always not good. Especially that if we bought it from the shop, most of the time, we are not sure what really is the ingredient used.
However, if you make your milk tea yourself, then you know what you are putting in your refreshment. With homemade bubble tea, you may opt for healthier ingredients and control the amount, too.
You may use a sugar substitute to sweeten your milk tea. You may opt to lesser tapioca pearls, more fresh fruits or vegetables, instead of artificial flavorings. Fresh creamer of your choice will be great, too.
That is why these homemade bubble tea recipes below can be an easy start for you to learn. Surely you will enjoy making them.
Homemade Bubble Tea Recipes
Enjoy these homemade bubble tea recipes. Feel free to change or make substitutes for some of the ingredients. When you are getting used to making your homemade bubble milk tea, surely you will learn to experiment and make new flavors, too.
This Matcha Bubble Tea is one of the most popular among the bubble Teas. Not only it's tasty and very refreshing but the matcha green tea has many health benefits, too. Deserves to be in the number one among Homemade Bubble Tea Recipes. The ingredients are the matcha green tea, some hot water, tapioca pearls, honey or maple syrup  (or your choice of sweetener), milk, a cup of ice and more water.
Get the full recipe here.
Here's the Classic Bubble Milk Tea, which surely has been around since the beginning. experiment by infusion one of your favorite fruits. Here, you will need 5 ingredients only such as your favorite black tea, some sugar (or sweetener of choice), some ice cubes, whole milk and of course, the tapioca pearls.
Get the full recipe here.
Two tubers in one tea? Tapioca pearl is from Cassava with blended sweet potatoes, this Sweet Potato Milk Tea with Brown Sugar Boba is something you should not miss to try out. You will need some soy milk, boiled and peeled sweet potatoes, brown sugar syrup, some ice, sweetened condensed coconut milk, and tapioca pearls.
Get the full recipe here.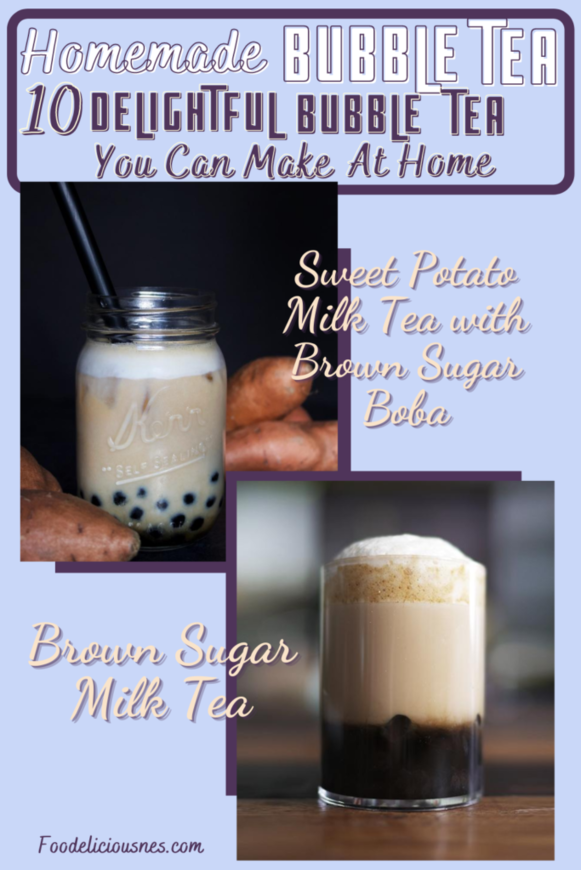 An overly sweet milk tea, this Brown Sugar Milk Tea is made of Muscovado sugar. Muscovado sugar, sometimes called Barbados sugar, is the least refined cane sugar with natural molasses. It has a toffee-like flavor in rich-brown color. In this recipe, you will be making your tapioca balls. The ingredients for this super sweet bubble milk tea are tapioca flour, a lot of muscovado sugar, your choice of tea and cream, and of course, water.
Get the full recipe here.
---
If you love Peanut butter, surely you will love this Peanut Bubble Tea too. Best if it is your Homemade Peanut Butter. Get your smooth peanut butter and tapioca pearls. You will also need some honey or your choice of sweetener, soy beverage, black tea, and ice cubes.
Get the full recipe here.
Bourbon Milk Tea is perfect as a cocktail at a party or while hanging with friends. Can't miss this to include in the list of homemade bubble tea recipes. To make this, get your favorite bourbon, together with the tapioca pearls, your matcha tea, some sugar, creamer, and water.
Get the full recipe here.
---
Very tasty and easy to make, this Strawberry Bubble Tea is a great refreshment at any time of the day just like any bubble teas. Moreover, we know that berries have more antioxidants. Beside your tapioca pearls and your black or green tea, bring in some syrup, some milk, and your favorite strawberry milk (you may opt to fresh strawberries blended with your choice of milk).
Get the full recipe here.
Another fruity and very refreshing milk tea that makes it among the homemade bubble tea recipe is this Honey Dew Bubble Tea. this recipe is lacto-free, gluten-free, and perfect for vegan. It is very easy to make, too. The ingredients are fresh honeydew melon, tapioca pearls, green tea, soy milk, and agave syrup.
Get the full recipe here.
Ube, also known as purple yam, is a tuber purple in color and is often boiled then grated or mashed and made into some kind of pudding and other delicacies. It is very popular in the South East, especially in the Philippines. It is also a popular ingredient in many food and drink products including this Ube Milk Tea. You may find this popular ube in your nearest Asian store or in Amazon. To make this refreshing boba milk tea, have the Ube Jam on hand, black tapioca pearls, condensed milk or your choice of cream and sweetener, your preferred tea, some hot water, and ice.
Get the full recipe here.
Another easy to make the tapioca pearl milk tea is this 3 Ways To Make Bubble Tea. And yes, you can make 3 different milk teas in just one recipe. You will only change a certain ingredient to create another one. The main ingredients are your choice of tea, tapioca pearls, choice of milk, and sweetener or honey. For flavors, you can have a choice of plain or added fruits.
Get the full recipe here.
Did you enjoy these Homemade Bubble Tea Recipes? Don't forget to pin them into your Pinterest board. And share this with your friends, too.
You may also like