These heart cookie dough truffles are indeed an excellent treat to make for that special someone that truly loves cookie dough. Not only are these truffles shaped like a heart, but they are also drenched in dark chocolate.
You can also be really creative with this recipe. Instead of chocolate chips on the inside, you could use peanut butter chips or any other flavor. You could also cover these in any type of melted chocolate.
This heart cookie dough truffle is truly a simple, fun, and delicious recipe that everyone is sure to love. Below is the recipe that you can easily follow.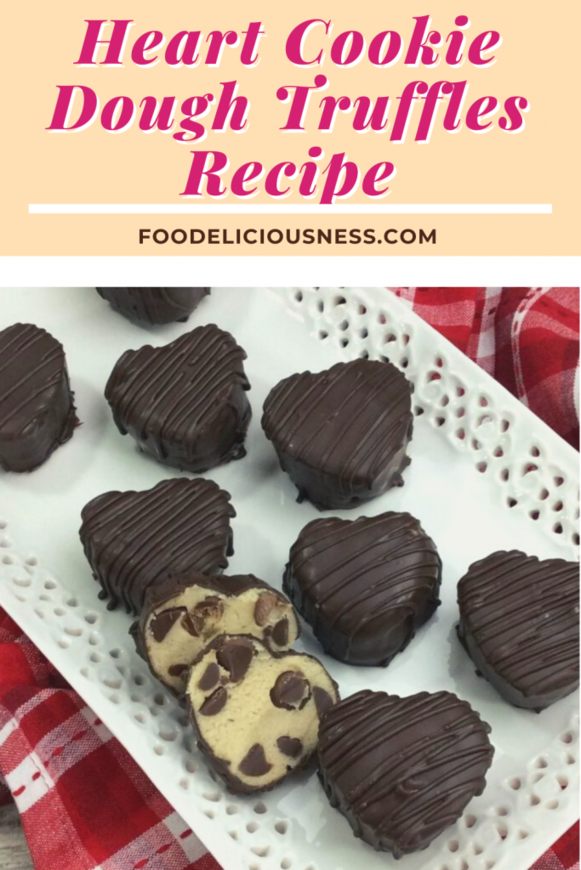 Heart Cookie Dough Truffles
Ingredients
1/2 cup brown sugar
1/4 cup unsalted sweet cream butter, softened
1/4 tsp of salt
1/4 tsp vanilla
2 tbsp whole milk
10 tbsp flour
1/4 cup chocolate chips
1 bag of dark chocolate melting wafers
1 disposable piping bag
1 silicone heart mold
Directions
Using a double boiler, first, melt the chocolate and mix until smooth.
Then pour the chocolate into the silicone mold.
Carefully flip the mold over so that the chocolate can fall back into the pot. This will leave you with a chocolate shell.
Then set aside.
Using a standing mixer, combine the brown sugar, butter, salt, and vanilla and mix until combined.
Mix in your milk.
Gradually mix in the flour and chocolate chips.
Scoop about 1 tablespoon of the cookie dough into your hands and lightly press down into the chocolate molds.
Cover the top of the molds with a layer of chocolate.
Place into the fridge for overnight.
Remelt the chocolate and place into the piping bag.
Carefully remove the chocolate hearts from the molds and place them onto a cookie sheet.
Cut the tip off the piping bag and drizzle the chocolate onto the hearts.
Finally, let hearts harden for 20 minutes.
Enjoy!
I hope you enjoyed this Heart Cookie Dough Truffles Recipe. Don't forget to Pin to your Pinterest board for later.
More details of the recipe here
---
You may also like