Gas station food is repulsive to many. Then there are others who eat much more gas station food than anyone should. No matter which side you are on you will still probably be faced with a time when you will need to eat gas station food. Here is a quick guide of "dos" and "don'ts" for when you are faced with that scenario.
Related Content:

Jollibee Chicken Review
First, let's clear something up. This article is assuming you aren't at a gas station that does not offer made-to-order food. If you are at Sheetz or Wawa or something similar then you're (for the most part) safe to go ahead and grab a made-to-order sub.
5 Gas Station Food "Dos"
We're factoring in nutrition and taste in our rankings, with more of an emphasis on nutrition. Let's do this, the top five gas station snacks.
Nuts
This could be controversial, but we're going to lump all of the nuts into one spot. The top recommendations are pistachios, almonds and cashews. Remember, when you're eating at a gas station you're just trying to get enough fuel to get to your next meal. When you start grabbing full meals of gas station food that's a serious problem.
Beef Jerky
The only drawback to beef jerky as a gas station snack is cost. It's packed with protein and will get you through to the next meal. Plus most people are a big fan of jerky. So if you're not factoring in cost, head straight to the jerky station and grab you a big old bag of your preferred flavor of Oberto Beef Jerky as it's the mecca of gas station snacks.
Fresh Fruit
I realize some of you may be weary of grabbing fruit that's just been laying around at a gas station. This isn't your average gas station snack. When there is fruit at a gas station I opt for the banana for a couple of reasons. First, that peeling is on there for a reason. It keeps out all the bad stuff. Second, the banana peel is all the indicator you need to as to how good it is going to taste. You can tell all you need about a banana's ripeness by looking at a peeling.
Quest Bars
This is always a safe bet. Quest Bars are low carb and usually have around 20 grams of protein so they will hold you over for at least an hour or two. Plus they come in delicious flavors like s'mores and chocolate chip cookie dough.
Pork Rinds
What's not to love about fried pig skin? While this is not an article about keto snacks, pork rinds are a slept-on keto snack and if you've never looked at their macros, you might be surprised. For instance, Jay's Pork Skins: 70 calories, 5 g fat, 2 g saturated fat, 230 mg sodium, 0 g carbs, 7 g protein. All that for a couple of bucks? The value, combined with that crunchy zero carb goodness is what gets them in the top five.
Honorable Mentions
A few that just missed the cut:
String cheese
Greek Yogurt
Cliff Bars
Dark chocolate squares
5 Gas Station Food "Don'ts"
Here comes the top five gas station foods that are loaded with sugar and do very little to suppress your appetite. Avoid these at all costs!
Mini Donuts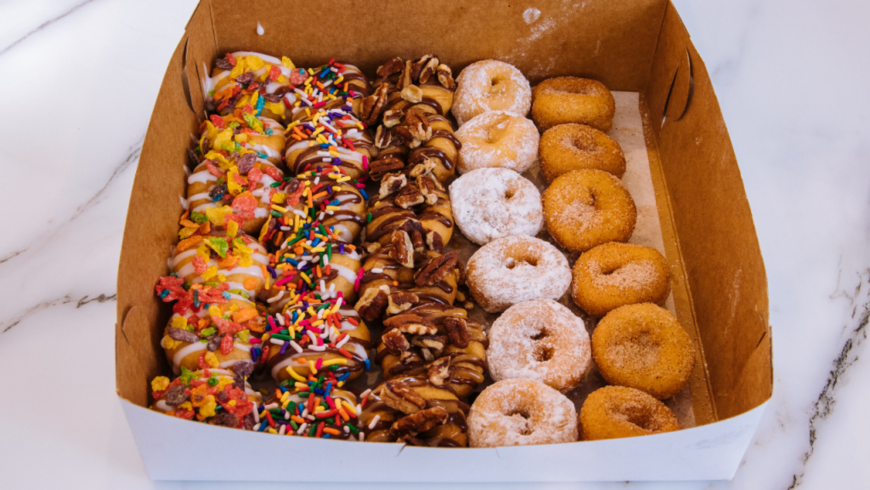 You've seen those packages of powdered mini donuts. These are loaded with sugar, don't even taste that good and actually make you hungrier when you eat them. Don't let the "mini" part sucker you in. When you eat six of them that kind of kills the "mini" part. Keep away!
Nature Valley Crunchy Peanut Butter Granola Bar
Nature Valley Crunchy Peanut Butter Granola Bars are near the top of the rankings because many people are tricked into thinking it's healthy, while it's actually loaded with sugar. Peanut butter can be a solid choice, but not in this spot when it's loaded with not one but two types of sugar. With a massive 11 grams of sugar, stay away from this deceptively unhealthy snack. Many people grab these thinking they're doing their body a favor.
Sun Chips
Sun Chips give off a vibe of healthiness. Harvest Cheddar Sun Chips sound like a very healthy, perhaps organic snack. That couldn't be further from the truth. Check out the macros on these bad boys: 210 calories, 9 grams of fat, 29 g of carbs and 4 g of protein.
Sun Chips aren't the worst thing in the world you can eat but don't get duped into thinking you're actually eating something healthy. They're basically like any other chip.
Starbucks Mocha Frappucino
While this may not be considered a snack for many, this had to be added. Why? Because it has as many calories as most of the gas station snacks you are thinking about picking up. Much like the Starbucks drinks you get at the actual coffee shop, these are loaded with sugar. These have 260 calories, 5 g fat, 47 g carbohydrates, 45 g sugar and 9 g of protein.
Roller Dogs
The roller dogs inspired this all-time meme:
Despite how great the meme is, these things are awful for you. A hot dog is a notoriously unhealthy snack, but you know what's worse? A gas station hot dog jammed with cheese sitting on a roller. Most gas stations have them. I'm sure this is not breaking news for you, but don't go near these roller dogs.
What Gas Stations Snacks Are Keto?
Out of our top five "dos," three of them can be keto. Jerky, nuts and pork rinds can all three be keto-friendly. Remember, always read the label to make sure they are low carb. Jerky companies love to sneak in some carbohydrates along with honey roasted peanuts and sweet pork rind flavors. It happens to work out that some of the best gas station food happens to be keto-friendly.
Can You Door Dash Gas Station Snacks?
Yes, you can use Door Dash for gas station snacks. If you go to the "convenience" tab in the Door Dash app, you will see a list of convenience stores, pharmacies and other stores, depending on your area. For instance, in my area you can access the Dollar General store, which is basically a convenience store on steroids, loaded with gas station snacks. With that array of options, you can track down about any gas station food, from Little Debbie Cosmic Brownies to Flamin Hot Cheetos.
What Are the Most Popular Gas Station Snacks?
There was not any research put into this unofficial most popular gas station snacks poll, but here is our best guess at the most popular snacks in gas stations, not the best gas station snacks. Also, in mind that health is not factored into this.
Flamin Hot Cheetos
Smartfood White Cheddar Popcorn
Gas Station Hot Dogs
Beef Jerky
Andy Capp's Hot Fries
Nacho Cheese Doritos
Hanover Honey Mustard and Onion Pretzel Bits
Sour Gummy Worms
Microwavable Burritos
Salt and Vinegar Chips
Buffalo Blue Cheese Doritos
Nachos with Cheddar Cheese
Little Debbie Cosmic Brownies
Pop Tarts (Strawberry frosted, of course)
Breakfast Pizza
What gas station snack did we leave off of here? Say you're 10 hours into a cross country road trip and your destination, and more importantly food, is still a couple of hours away. What's your best gas station snack you're going to go into the store and nab?
Some Gas Stations Have Actual Restaurants In Them
This is something to keep an eye on when traveling. Maybe you'll be fortunate enough to see a Blimpie Subs inside of the gas station. There are many Blimpie store locations nationwide that are inside a gas station. Some of you are probably saying "what the heck is a Blimpie?" In your case, there could be a Subway inside of a gas station.
Conclusion – Gas Station Snacks Don't HAVE to Ruin Your Diet
With a little bit of effort and forethought, you can make relatively healthy choices even when you're stuck at a gas station. Avoid the worst offenders on this list, and focus on the healthier snacks that will help you reach your fitness goals. Grab something quick that is going to hold you over until you can get to a real meal. Also, keep the number of times grabbing food in gas stations to a minimum. Your average healthy person is rarely, if ever, eating at gas stations. Morning coffee is okay, especially if you drink it black.