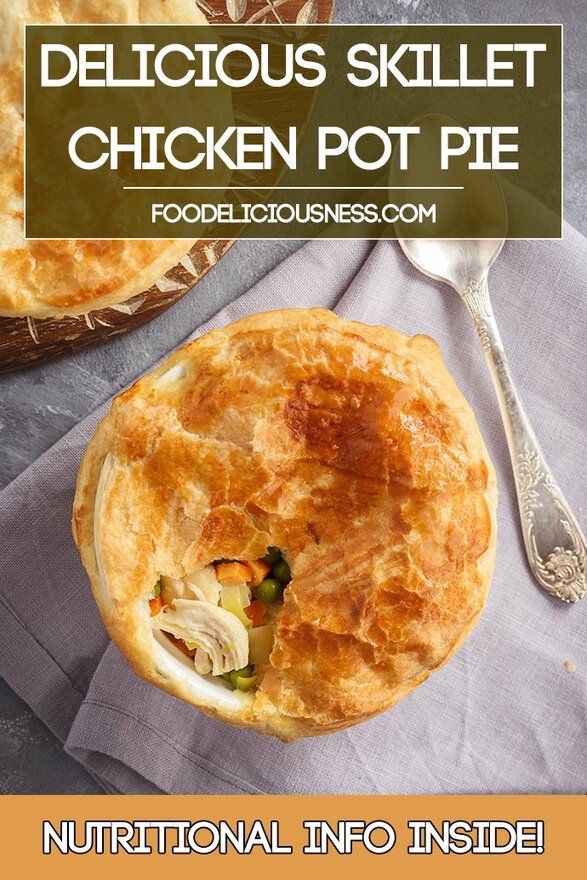 Another delicious version of a chicken recipe, a skillet chicken pot pie.
While it is not easy to make and takes about 50 minutes of prep time and a total cooking time of 1 hour and 30 minutes, this dish is worth the attention and energy put into making this mesmerizing meal.
The pie crust is something unique and makes the preparation of this dish much easier.
Ingredients
For the Chicken Pie Filling
1/3 cup butter
1/3 cup all-purpose flour
1/2 cup chicken broth
1 1/2 cup milk
1 1/2 teaspoons Creole seasoning
2 tablespoons butter
1 large sweet onion, diced
1 (8-oz.) package sliced fresh mushrooms
4 cups shredded cooked chicken
2 cups frozen cubed hash browns
1 cup matchstick carrots
1 cup frozen small sweet peas
1/3 cup chopped fresh parsley
For the Pastry Crust
1 (14.1-oz.) package refrigerated piecrusts
1 egg white
Instructions
Prepare Filling: Preheat oven to 350°. Melt 1/3 cup butter in a large saucepan over medium heat; add all-purpose flour, and cook, whisking constantly, 1 minute. Gradually add chicken broth and milk, and cook, whisking constantly, 6 to 7 minutes or until thickened and bubbly. Remove from heat, and stir in Creole seasoning.
Melt 2 Tbsp. butter in a large Dutch oven over medium-high heat; add onion and mushrooms, and sauté 10 minutes or until tender. Stir in chicken, next 4 ingredients, and sauce.
Prepare Crust: Place 1 piecrust in a lightly greased 10-inch cast-iron skillet. Spoon chicken mixture over piecrust, and top with remaining piecrust.
Phase II
Whisk egg white until foamy; brush top of piecrust with egg white. Cut 4 to 5 slits in top of pie for steam to escape.
Bake at 350° for 1 hour to 1 hour and 5 minutes or until golden brown and bubbly.
Chicken Pot Pie with Bacon-and-Cheddar Biscuits: Omit piecrusts and egg white. Preheat oven to 425°. Prepare Chicken Pie Filling as directed through Step Spoon filling into a lightly greased 13- x 9-inch baking dish. Cut 1/2 cup cold butter into 1/2-inch cubes. Cut butter cubes into 2 cups self-rising flour with a pastry blender or fork until crumbly and mixture resembles small peas. Add 3/4 cup (3 oz.) shredded sharp Cheddar cheese, 1/4 cup finely chopped cooked bacon, 2 Tbsp. chopped fresh chives, and 1 cup whipping cream, stirring just until dry ingredients are moistened. Turn dough out onto a lightly floured surface, and knead lightly 3 or 4 times. Roll or pat dough to 3/4-inch thickness; cut with a 2 1/2-inch round cutter to form 15 biscuits. Bake Chicken Pie Filling at 425° for 15 minutes. Remove from oven, and arrange biscuits on top of hot chicken mixture. Bake 25 to 30 more minutes or until biscuits are golden brown and chicken mixture is bubbly. Remove from oven, and brush biscuits with 2 Tbsp. melted butter.
If you like this recipe, try our King Ranch Chicken!
Nutrition Info