This easy, gluten free salad is a delightful, sweet & tasty way to kick off fall!  With low nutritional intake but very effective for Weight Control, i guess you will smile every evening when you are very hungry and you will devour this healthy brussels sprouts salad. Did you know that a daily Salad will aid your intake of Healthy Fats, it helps you toget strong bones, improve muscle performance and protect your heart?  I guess now you're convinced to eat more salads, even it's autumn.  For those who eat often brusells sprouts, please leave a comment and tell us why you love it soo much! Love ya and enjoy!
Cuisine: American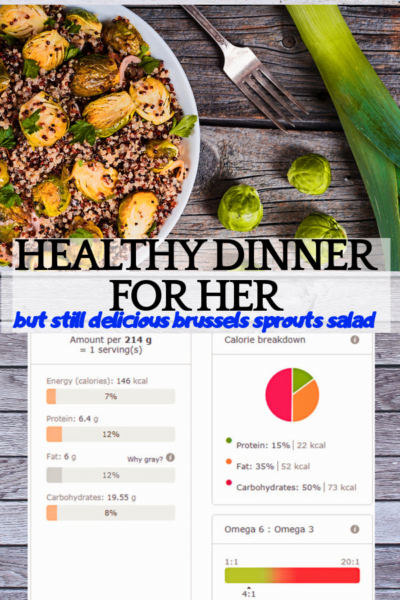 ____________________________________________________
Prep Time                                                                   Total Time
15 mins                                                                        15 mins
Servings: 6
____________________________________________________
Ingredients
12 oz. Brussels sprouts, ends trimmed, halved
1 bunch lacinato (Tuscan) kale, finely chopped
1 large red apple, chopped
1/2 c. Graceland Fruit No Sugar Added dried cranberries
1/2 c. shaved Parmesan cheese (omit if vegan)
1/3 c. toasted walnuts
1/4 c. thinly sliced red onion
For the Creamy Tahini Vinaigrette
Juice of 1 large lemon
3 Tbsp olive oil
2 Tbsp tahini
2 Tbsp water
1 Tbsp pure maple syrup
1/2 tsp salt
Instructions
Place the Brussels sprouts into the bowl of a food processor. Pulse several times until shredded and finely chopped.  Remove to a large bowl.  Add the chopped kale, dried cranberries, Parmesan cheese if using, toasted walnuts, and sliced red onion.  Core and chop the apple, then add to the bowl.  Toss to coat.
To make the dressing, whisk together the lemon juice, olive oil, tahini, water, maple syrup, and salt. Drizzle over the salad; toss to combine.  Refrigerate up to 3 days.
Here also you can find a easy vegan outmeal  cake