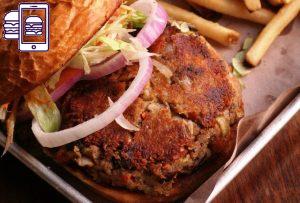 INGREDIENTS for black-eyed pea burger:
1/4 lb carrots, peeled and diced
1 tablespoon vegetable oil
3/4 cup red onion, diced
1/4 cup, plus 2 tablespoons poblano peppers, diced
1/2 tablespoon, plus 2 teaspoons garlic, minced
half tablespoon cumin
1/2 tablespoon paprika
1 tablespoon salt
2 tablespoons white wine
half cup smoked tomatoes, puréed, or canned tomatoes, puréed
fourth cup smoked tomato water, or water
1½ cups collard greens, puréed and pressed dry
2 15-ounce cans black-eyed peas, drained and smashed
two tablespoons Crystal hot sauce
1/4 tablespoon oregano
half tablespoon black pepper
1/4 bunch parsley, minced
2 ¾ cups panko
DIRECTIONS:
In a sauté pan on high, cook carrots in vegetable oil until golden brown, about 4 minutes. Add onions and poblano peppers and continue cooking until browned, approximately 5 minutes.
Add garlic, cumin, paprika, and salt and continue cooking until garlic is aromatic and spices are toasted, about 45 seconds.
Deglaze with white wine and cook until almost dry, about 10 minutes. Add smoked tomatoes, smoked tomato water, and collard greens. Reduce heat to low and simmer for 15 minutes. (Note: If deglazing mixture becomes too dry and begins to burn, add 1 tablespoon of water and repeat as necessary.)
Add black-eyed peas, hot sauce, oregano, and black pepper and mix well. Transfer to sheet pan and allow to cool.
In a large bowl, combine cooled mixture with parsley and panko. Add salt and pepper to taste.
Portion in to 7-ounce patties and serve on brioche bun with chipotle mayo, lettuce, tomato, and onion.