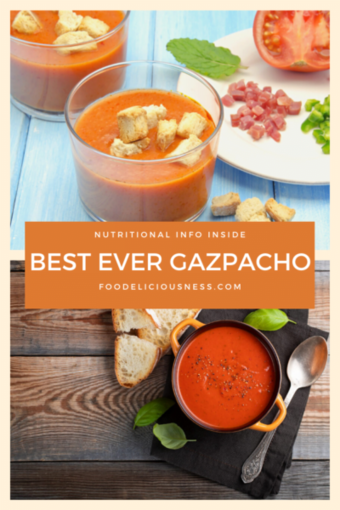 Gazpacho is basically a raw onion soup combined with tomatoes. It is often prepared during hot summer days, since it's refreshing and soothing. Dip in some toast and you'll have the perfect snack! This recipe does not involve cooking, you will just need a blender to make it!
2 lb. tomatoes, quartered
2 Persian cucumbers, peeled and chopped
1/2 red bell pepper, chopped
1 clove garlic, roughly chopped
2 tbsp. red wine or sherry vinegar
1/2 c. water
1/3 c. extra-virgin olive oil, plus more for garnish
Kosher salt
Freshly ground black pepper
2 slices country bread, cubed
2 tbsp. thinly sliced basil
Instructions
Combine tomatoes, cucumbers, pepper, garlic, vinegar, and water in the bowl of a food processor or blender. Blend until smooth, then add olive oil and blend to combine. Taste and season with salt, pepper, and more vinegar if needed. Cover and refrigerate until chilled.
Meanwhile, in a large skillet over medium heat, add enough olive oil to coat the bottom of the pan. Add cubed bread and cook, stirring occasionally, until bread is golden and crisp. Remove from heat, season with salt, and let cool.
To serve, divide soup among bowls and top with basil, croutons, and a drizzle of olive oil.
Nutritional Info
You liked this recipe? Try out our: