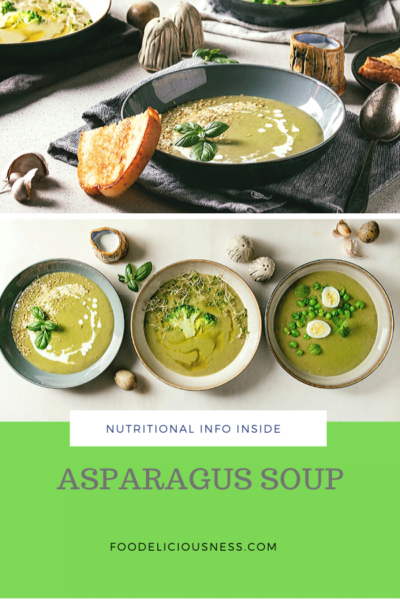 Most of the asparagus soups you will try in restaurant contain a lot of heavy cream. This recipe, for the best Cream of Asparagus Soup EVER does not contain cream! Thus it is more healthy and more "vegetably". You can garnish it with some ham or baked bacon & scallions! You will need half an hour to prepare this soup.
Ingredients
3 slices thick cut bacon — optional
1 tablespoon extra virgin olive oil
one cup finely chopped leeks — white and light green parts; or swap yellow onion or shallot
2 medium Yukon gold potatoes — peeled and cut into 1/2-inch dice (about 10 ounces)
two cloves garlic — minced
3 cups low-sodium vegetable broth — or chicken broth
2 pounds asparagus — trimmed and cut into 1-inch pieces
1/2 teaspoon kosher salt
1/4 teaspoon black pepper
1/2 cup 2% Greek yogurt — plus additional for serving (do not use fat free or it may curdle and the soup will not be as creamy)
Instructions
If serving with bacon: Preheat the oven to 400 degrees F and prepare according to this guide for Baked Bacon. Crumble or dice and set aside.
Heat olive oil in a Dutch oven or similar medium/large saucepan over medium heat. Add leeks and potatoes cook, stirring occasionally, until the leeks begin to soften, about 2 to 3 minutes. And add the garlic and cook until fragrant, about 30 seconds. Add the broth, asparagus, salt, and pepper. Bring to a boil, then reduce heat and simmer until the vegetables are tender, 10 to 15 minutes.
With an immersion blender, puree the soup until smooth. (You can also carefully transfer it to a blender or food processor in batches and blend it that way. Be careful as hot soup tends to splatter!) Return the blended soup to the pot and let cool a few minutes. Stir in the Greek yogurt, then season to taste with additional salt and pepper. Remember that if you are adding the bacon on top, it will also be salty, so be careful not to overdo it.
Serve hot, topped with crumbled bacon, a sprinkle of fresh chives, and an extra dollop of Greek yogurt as desired.
Nutritional Info
If you are into this recipe, you can also try our: Instant Pot Beef Stew