Here are 8 Vegetarian Keto Recipes that you will surely like. Are you a vegetarian but would like to try and experience the benefits of a keto diet? Or you are already on a keto diet but would like to cut off on meat for some reason.
There has been a lot of extensive studies recently about the health benefits of Vegetarian and Ketogenic Diets.
The Ketogenic Diet or Keto Diet for short is a high-fat, moderate protein and very low carb that has become very popular recently. Even though it usually contains animal products, it is possible to adapt it to fit a vegetarian diet. Therefore, the idea of VEGETARIAN KETO DIET could be appealing to many people who want to avoid meat and at the same time get the benefits of ketogenic living.
Below are 8 great Vegetarian Keto Recipes to start with or additions to your recipes. And don't forget to Pin into your Pinterest Board to get back to your recipes easily.
This savory waffle makes a terrific bread. Although the recipe sounds intriguing why don't you take a look at the ingredients?  Furthermore, there is no extra effort in preparation.
Macros:  Fats 17.0g | Proteins 6.5g | Carbs 3.8g
See more details here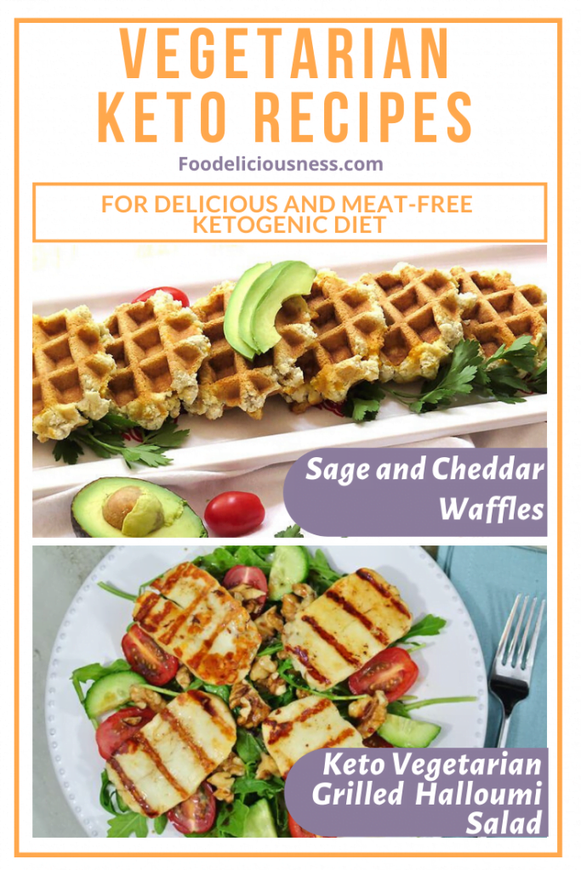 Keto Vegetarian Grilled Halloumi Salad
Cheese and veggies salad does look great, but the slices of grilled halloumi cheese look like pieces of fish or chicken. and that makes them possible to turn a vegetarian lunch into a feast. Want to get to the top of taste? Eat it cold – and know the true keto bliss.
Macros:  Fats 47.0g | Proteins 21.0g | Carbs 7.0g
See more details here
---
This Keto pie is very colorful thanks to the leaves of spinach and mint but at the same time because of the crust of almond and coconut flour makes the food heavenly. And almost no carbs and a perfect to be among Vegetarian Keto Recipes.
Macros:  Fats 16.0g | Proteins 10.6g | Carbs 2.0g
See more details here
4. Stuffed Avocado for Breakfast
A breakfast or brunch, and also very tasty and filling. Avocado is very popular for this diet as you get most of your nutrients needed with high good fat, enough protein, and low carb with high fiber and moreover, another important is the high potassium it contains. Thus, makes it on the list among Vegetarian Keto Recipes.
Macros:  Fats 20.3g | Proteins 6.0g | Carbs 5.0g
See more details here
---
Finally, you wouldn't miss your burger anymore with this Bun recipe. And it just gets healthier and more options for your sandwich. Surely you will love this.
Macros:  Fats 55.1g | Proteins 23.7g | Carbs 8.7g
See more details here
6. Fried Eggplant for Vegetarian Low Carb Diet
Eggplant is one of my favorites as I can do a lot of recipes with it and this recipe is, of course, one of them. Fring with garlic and parmesan brings out all the tastiness and so much easy to make. Try it out! You'll surely love this.
Macros:  Fats 22.0g | Proteins 12.6g | Carbs 6g
See more details here
---
7. Zucchini and Parginiano Cheese.
This vegetarian keto recipe comes fast and easy and the smell of cheese, while it broils in the oven, is so captivating. The more cheese, the better the taste. I always love cheese.
Macros:  Fats 10.01g | Proteins 14.0g | Carbs 12.0g
See more details here
8.Spaghetti Squash and Mushroom Sauce.
This low-carb vegetarian recipe is so simple and easy to prep. The carbs may be a bit high but it is still within the Keto frame. Why don't you try with this very tasty and creamy dish?
Macros:  Fats 24.0g | Proteins 11.0g | Carbs 21g
See more details here
---
You may also like: