Do you get bored with preparing the same food and school lunch sandwiches for your kids? You want to make something easy, healthy and nutritious for them, and in this article you will find exactly that! Below you can see 8 great School Lunch Box Ideas and Recipes. These meals will provide your children with enough energy and vitamins for the whole day, and they will surely enjoy eating this delicious food.
Check out the recipes below!
Dinosaur Bento Lunch is with cheese, veggies, and fruit, it's a healthy and fun option for a lunch or snack.
Turkey Bacon Ranch Wraps are made with simple ingredients. You will need tortillas, ranch dressing, sliced turkey, cheddar cheese, bacon, and lettuce.
3.
Ordinary sandwich rolls don't seem to delight kids anymore. So, try this delicious mix of grilled chicken, fresh vegetables, cheese and bright slices of green and red bell peppers.
This can be an incredibly appetizing and nutritious snack for your child.  You can make baked ravioli for dinner the night before, double the recipe, and save leftovers for lunch.
Apple and cheddar quesadillas are an easy, tasty lunch that kids will certainly enjoy.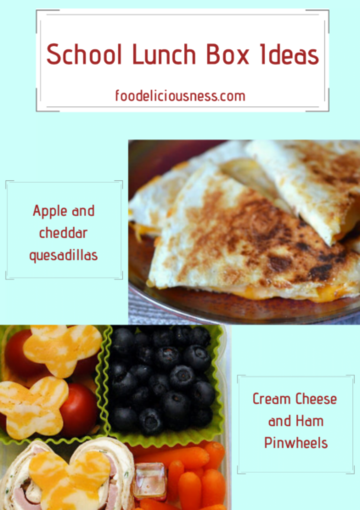 Cheese butterflies, tomatoes, carrots, large blueberries, and delicious cream cheese and ham pinwheels turn into a perfect lunch. Nutritious and healthy.
This sweet pumpkin pancakes are soft and melting in the mouth. Your kids will love them! They are really good with syrup, a spoon of air whipped cream and fresh berries.
This mini-pizzas that fit the lunchbox easily are going to strike any kid. It's very easy to make, and delicious.
Don't forget to Pin them to your Dinner recipes Board to save your favorite recipe.
You might like…