Foods to Relieve Stress are also important in one's diet. Stress is an everyday experience either you are at home or at work. Comfort foods are often we seek after during stressful times. Although these foods may make us feel better at the moment, in reality, it can make more stress in the body. Foods that Reduce Stress thus makes an important role in one's diet as well.
For this reason, below are 8 Foods to Relieve Stress that we'd like to share with you and the ingredients are highly approved by most Nutritionists. And also, don't forget to Pin these healthy foods into your Pinterest board for later.
This tasty Super Cleansing Slaw with Rosemary Dressing is definitely healthy, stress-relieving food for its high antioxidants and full of vitamins B6, C, K, potassium, and folate. Just combine altogether shredded fennel, celery, beets, carrots, and fresh parsley and cilantro.
You can find the full recipe here.
Definitely, this Super Green Soup is truly awesome. Surely, these leafy greens are key to naturally reducing stress levels in the body. Moreover, spinach, kale, watercress, and romaine are in fact, high in minerals and contain folate as well, which produces dopamine (a pleasure-inducing chemical), thus,  makes them one of the best foods for stress relief. In addition to its ingredients are broccoli, mint leaves, leak, agria potato, more herbs and spices and then cooked in olive oil and butter.
You can find the full recipe here.
---
Accordingly, beef contains what is called CLA or Conjugated Linoleic Acid. Indeed this healthy fat can give your brain a boost. Furthermore, it also contains Vitamin C and zinc. Thus, makes it to the list of stress-relieving foods. Ingredients such as Oregon fruit red tart cherries, fresh thyme, Italian parsley, and shallots are also included in this recipe.
You can find the full recipe here.
Accordingly, you need to boost magnesium and potassium to balance out those stress responses. Nutritionists suggest that almonds, macadamia nuts, walnuts, cashews, and pistachios are very good sources hence, they are included in the best foods to relieve stress.
By all means, sprinkle these nuts onto the Cauliflower Salad to power up your stress-relieving foods. By the way, this salad has Dukkah (contains roasted pistachio nuts, cumin, coriander, sesame and nigella seeds), cauliflower, avocado, nectarine, and some lemon juice.
You can find the full recipe here.
---
Truly, this delicious salad is crunchy, creamy with lemony taste and very healthy. Thus, it is one of the best foods to relieve stress and moreover, ingredients are recommended by Nutritionists. Specifically, avocado is indeed a superfood that contains healthy fats and promotes blood flow to the brain and has been linked to low blood pressure. Combine together with blood orange, romaine heart, fennel, garbanzo beans, and pumpkin seeds and dressed with the lemon dressing.
You can find the full recipe here.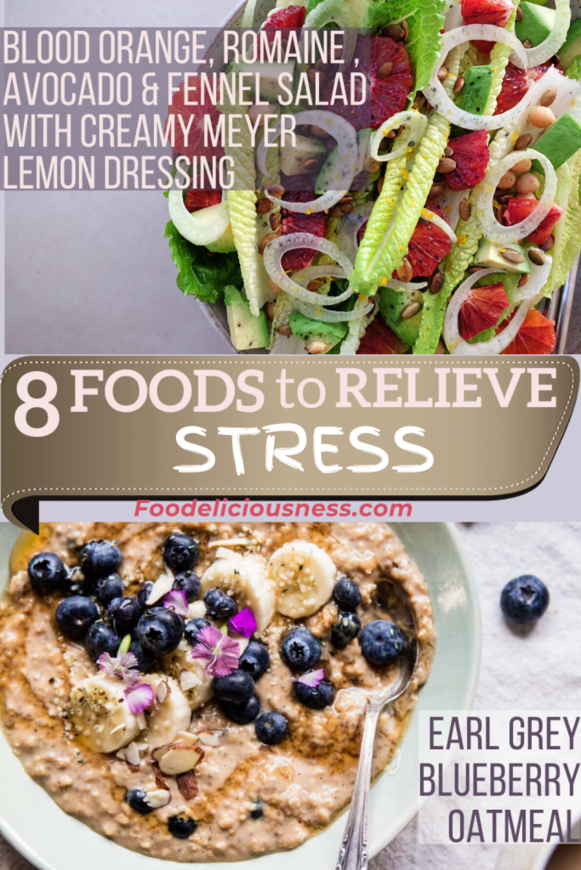 It is known in particular that starting the day with a bowl of oatmeal to relieve stress. It contains complex carbs that help promote the release of serotonin. Moreover, adding with blueberries while making it in the list of Nutritionists as one of the foods that can relieve stress. Then splash with some milk and that makes it more delicious as well.
You can find the full recipe here.
---
Indeed peppers are also foods to relieve stress. This is because it is rich in vitamin C and known to lower cortisol. This Turkey Stuffed pepper finds its way to being one of the foods that reduce stress. additional ingredients are of course some ground turkey, some Quinoa, cooked according to package instructions, onion, tomatoes, garlic, some jalapeno and Taco seasonings.
You can find the full recipe here.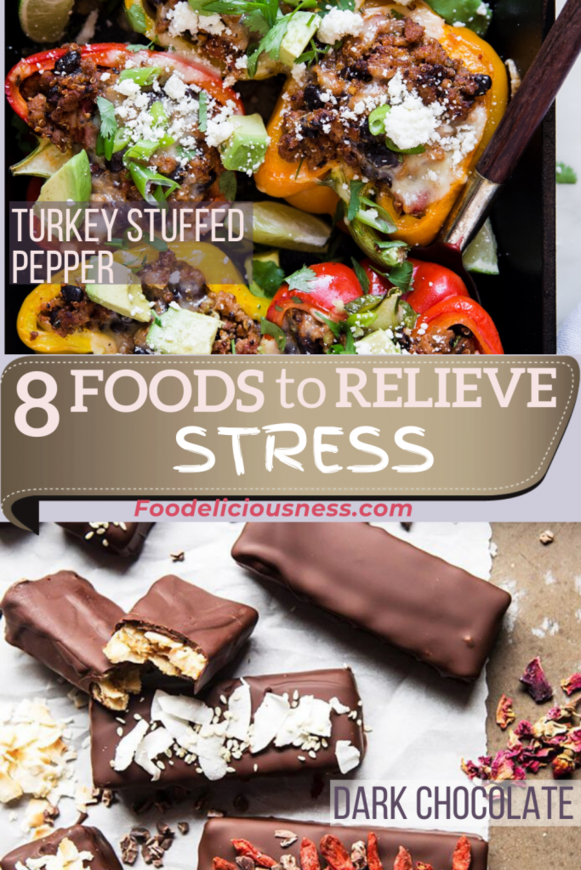 Dark Chocolates are one of the Foods to Relieve Stress according to Nutritionists. Firstly, it helps promote serotonin, secondly, it contains magnesium to help you calm, and third, it is high in a chemical called anandamide which can block feelings of pain and depression. Adding with other ingredients like maple syrup, coconut cream, peanut butter, vanilla extract, coconut flakes, dark chocolate, and your choice of toppings will definitely make it so tasty.
You can find the full recipe here.
---
You may also like