The Keto Diet dates back to the 1920s and was created by endocrinologist Dr. Geyelin to treat epilepsy. The Ketogenic Diet is popular because it allows for relatively quick weight loss, where fat deposits melt. What is so important about this diet is that it does not starve – meat and healthy fats keep us full for a long time.
If you have ever considered trying this diet, check out these 6 easy recipes.
This is a delicious vegetarian appetizer and it's gluten-free. A recipe that only takes 10 minutes to prepare. Enjoy these little feta-stuffed peppers.
Zucchini noodles, keto zoodle spaghetti, or zoodles…This is the meal you'll want to make over and over again, and this recipe will make it super easy for you.
This recipe is great because everyone loves bacon! Asparagus has many beneficial properties for health and it is very simple and easy to make the bacon-wrapped in them.
Keto Chicken Salad Lettuce Tacos – easy, delicious and perfect for family, lunch with friends.
The best vegan, keto, low-carb, whole30, and Paleo side dish recipe for cauliflower mash.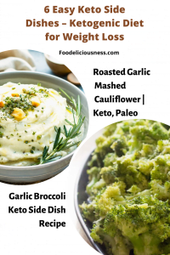 Garlic Broccoli Keto Side Dish Recipe – in just 13 minutes to the best broccoli you will ever eat.
Don't forget to Pin them to your Keto related Board to save your favorite recipe.
You might like…