IT'S THE GAME DAY! There's no better way to celebrate the day than gather with friends and family around and get them to your awesome game day food ideas such as tasty finger-friendly sweets, chips, and dips, stuffed bites, and showing off your new recipes of snacks and treats. If you are looking for more of these foods, we collected 21 GAME DAY FOOD IDEAS – Party Food Recipes and Appetizers for you that will add excitements for everyone. Check them below.
And to easily get back to your favorite recipes, don't forget to Pin them to your Pinterest Board.
Chicken Cordon Bleu Bites
These super crunchy bites are so tasty and one great appetizer, plus the dipping sauce adds more flavor to the bites.
Check recipe here
Chicken Alfredo Dip
Loaded with cheese and chicken and baked until gooey and irresistible. Pair this with your favorite cracker or even vegetable and I assure you this is going to be a hit.
Check recipe here
---
Copycat Texas Roadhouse Rattlesnake Bites
Don't worry they are not what the name implies. This cheesy and spicy appetizer are deliciously filled with jalapeno and cheese and deep-fried to perfection.
Check recipe here
Mozzarella Stuffed Meatballs
It can be served as an appetizer as it is or with your spaghetti as a meal. A fun twist on the classic recipe the everybody will enjoy.
Check recipe here
---
Homemade Soft Pretzel Bites
One of the most popular recipes, this pretzel is soft, chewy, salty and so good dipped in a cheesy sauce. you should really try this one for your party.
Check recipe here
Juicy Lucy Meatballs
This gooey cheesy stuffed beef meatball topped with a spicy-sweet sauce is so perfect appetizer for the game day.
Check recipe here
---
Cheesy Garlic Bread and Meatball Rolls
Almost a meal on itself with some garlic and lots of cheese on toasted Hawaiian rolls and added this flavorful spiced studded meatballs, this is perfect for the game-day finger food.
Check recipe here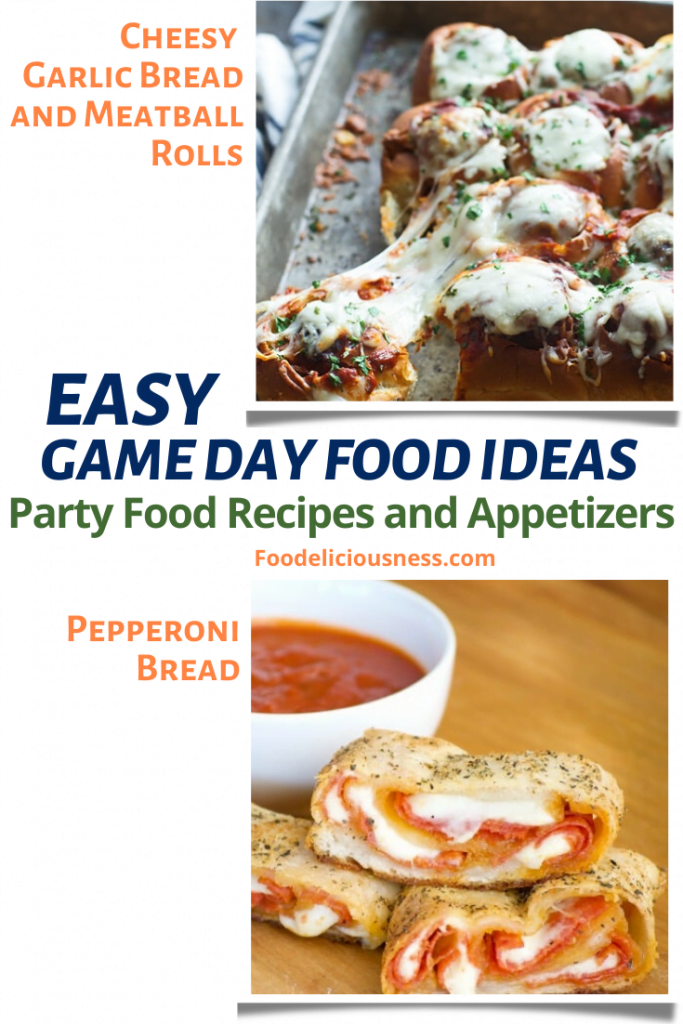 Pepperoni Bread
Serve this appetizer alone or pair with pasta or bread while watching the big game will have every one their fun and excitements.
Check recipe here
---
Slow Cooker Sweet and Spicy Sausage
This appetizer has the perfect combination of sweet and savory taste. This will quickly become one of your crockpot port recipes.
Check recipe here
Slow Cooker Queso Dip
So tasty slow cooker dip made with real cheese. This four-ingredient recipe will get your chip a whole new level.
Check recipe here
---
Jalapeño Popper Pigs in a Blanket
They are very easy to prepare and just so simple to put together the ingredients then stick them in the oven until they become brown and cooked through.
Check recipe here
Pizza Pull-Apart Slider
It's a pizza re-imagined! It's fun and easy to make, you can even put anything your family loves on top of the sliders and paired it up with a refreshing iced tea.
Check recipe here
---
Ham and Swiss Sliders
Another slider that is just easy to make, quick to prepare and so friggin good you'll not regret to put them on the menu for a big ball game night.
Check recipe here
French Onion Beef Sliders for a Crowd
Get these sliders on for the game day or night. With the seasoned ground beef, sweet caramelized french onion, and gooey gruyere and into the buns make them great appetizers for the crowd.
Check recipe here
---
Extra Crispy Homemade Onion Rings
This is how to make perfect, extra crispy homemade onion rings from scratch and you will never need to search for another recipe. Try it!
Check recipe here
Bite-Sized Blooming Onions
This is a smaller version of the larger popular appetizer perfect for the party. Each bite-size is a crispier crust and there is no fighting for pieces of the onion.
Check recipe here
---
Cheesy Party Burgers (AKA Diamond Burgers)
These Cheesy Party Burgers are so fun and delicious with its soft buttery dinner rolls, seasoned beef, spicy tomatoes, and gooey melted cheese all in one hand-held bite.
Check recipe here
Baked Salsa Chicken Taquitos
A delicious appetizer or snack great for game day, quick and easy to throw together and perfect use of leftovers. A little crunch with zesty, creamy chicken and the cheese is so good!
Check recipe here
---
CheeseburgerTots
These are tater tot bites filled with cheeseburger and topped with a special sauce great for the upcoming super bowl party!
Check recipe here
Beer Bacon and Cheese Dip Recipe
Layered with beer and bacon, this dip will leave you cravings for another bite.
Check recipe here
---
20 Minute Potato Wedges
It's an easy potato skin recipe you'll love loaded with cheese, bacon, and chives. Just to make it simpler, his easy game-day food is done with potato wedges and it is now down to 20 minutes of prep. Partner it for ranch dressing as dip.
Check recipe here
If you like these ideas, you may also like: