Ketogenic Diet is indeed very popular in many countries for health and at the same time helps with weight loss. In fact, the Keto diet is also very popular in Asia. If you are looking for more choices of Keto recipes and would love to try Asian foods, here are 18 Best Asian Keto Recipes that we collected for you.
These recipes from Far East Asia are already very popular in their own rights. Low-carb of these recipes makes perfect for Keto dieters.
Below are some of the Best Asian Keto Recipes. If you are not living in these countries, you will be able to find the ingredients in most of the Asian groceries and Asian Markets in your area. Moreover, the vegetables can also be substituted for what is available.
To begin with, here are 2 Indonesian Keto Recipes.
Nasi Goreng means Fried Rice in Indonesia. Its flavor and blends of different healthy ingredients make it unique. This Keto / Low Carb Nasi Goreng will definitely put you in a different level of health. To make, you'll need mayonnaise and lime zest and juice to make Lime Mayo. Next are some cauliflower, yellow onion, scallions, bell pepper or green chili pepper, butter or olive oil, garlic, ginger, sesame oil, eggs, salt, and pepper.
You may also get the full recipe here.
A lot of people fell in love with this sweet condiment once they tasted it. This Kepap Tamari is indeed another very popular Indonesian recipe. For those in a Low-carb keto diet, Keto Kepap Manis will surely be perfect. You will only need Tamari Sauce and Xylitol to make it.
You may also get the full recipe here.
---
Next, we have 2 Low Carb Keto Japanese Recipes
Surely a lot of people knew the most popular Japanese food, Sushi! But, originally, this is usually made with rice. For Keto and Low-carb goers, definitely, there is nothing impossible. Thus, here is the Keto Sushi for you. To make. You'll need to prepare cauliflower, Cream Cheese, Rice Vinegar, Soy Sauce, some sheets of Nori, cucumber, avocado, Smoked Salmon or any seafood
You may also get the full recipe here.
Traditionally, it is called Gyoza in Japan. This Potsticker or dumpling is also popular in some other Asian countries, too. It is a mixture of ground meat and vegetables wrapped in Gyoza wrappers. To make it Keto, Paleo, Gluten-free Potsticker, you will need some cabbage, garlic, ginger, Japanese garlic chives or green onions, ground pork, an egg, dashi powder or bouillon, some salt and black pepper, coco aminos, blanched salmon flour, daikon, and some water. For the sauce, you will need coco aminos, vinegar, and chili oil.
You may also get the full recipe here.
The next 2 recipes are from South Korea
This savory Korean recipe is not only tasty also healthy, too. Definitely, it won't be missed by anyone on a keto diet as it can be prepared into Low-Carb very easily. For Keto Sticky Korean Ground Beef stir fry, you need to have the ground beef, of course, some onions, garlic, scallions, red chillis, sesame seeds, and sesame oil.
You may also get the full recipe here.
Here is one of the Best Asian Keto recipes, and surely a lot of people are familiar with this Korean Recipe. This popular Bibimbap actually translates to mixed rice with vegetables and meat. While Sous Vide Pork is a tender and juicy pork meat that was cooked slowly.
To make Bibimbap with Sous Vide Pork(Gluten-free and Low-carb), here are what you need: Cauliflower, pork meat, and ingredients for sous vide such as fish sauce, garlic, and onion. You will also need vegetables like cucumber, spinach, bean sprout, carrot, pepper, garlic, a sweetener like erythritol, salt, olive oil, and sesame oil.
You may also get the full recipe here.
---
Check out these 2 Low Carb Malaysian Recipes, too.
Also known as Karipap in Malaysia, Curry Puff has indeed considered a popular comfort food to them. For Very Low Carb dieters, here is the Keto Curry Puffs that you will surely love. You will need minced beef, coconut oil for frying, curry leaves, ginger, cinnamon sticks, cumin seeds, cardamom, star anise, clove, coriander powder, curry powder, coconut milk, water, and some salt. To make the cheese dough, you will need shredded mozzarella, almond flour, eggs, egg yolk, and some salt.
You may also get the full recipe here.
This delectable Nasi Lemak is commonly served almost anywhere in Malaysia. It is traditionally wrapped in banana leaves. Here is the low carb keto recipe version, the Ketogenic Nasi Lemak. To make it, you'll need chicken thigh for the fried chicken along with curry powder turmeric powder, lime juice, salt, and coconut oil. For Nasi Lemak, you'll need Cauliflower riced, ginger, shallots, coconut milk, cucumber, and some salt, and an additional fried egg.
You may also get the full recipe here.
---
Next Asian Recipes are from the Philippines
Chicken Adobo is indeed,  a very popular Philippine dish. This recipe is already very low in carbohydrates unless you added certain ingredients with high carbohydrates such as sugar or potatoes. If you like your Chicken Adobo a bit sweeter, you may add some keto-friendly sweetener such as stevia. Actually, pork can also be used instead of chicken. Some people even mix both chicken and pork in Adobo.
To make this recipe, you will need some Chicken legs, apple cider vinegar, soy sauce or coconut aminos, garlic, pepper, red pepper flakes, bay leaves, some ginger, avocado oil or other oil suitable for high heat, sesame oil, sesame seeds, onions, and some water.
You may also get the full recipe here.
Another very popular recipe and easy to cook. This Pork Belly Sinigang has a sour and savory flavor that uses tamarind as the main flavor in the soup. Tamarinds may not be found in may countries but instead, the tamarind soup mix is used as a substitute. Furthermore, besides pork, you can also use fish or shrimp. However, chicken is not popular for sinigang but some people do use it. The vegetables that are commonly used are water spinach, eggplants, and string beans. but, that also depends on which are available, otherwise, you can use other vegetables as options.
For this recipe, here are what you need to prepare: Pork belly, Sinigang Soup mix, water, lard or cooking oil of your choice, tomatoes, onions, string beans, bok choy (optional)
You may also get the full recipe here.
---
Here are other popular recipes from China
San Choy Bau is a classic Chinese appetizer and very popular as well. In this recipe, you can use chicken or beef instead of pork. You will need some round pork, Keto sweet soy sauce, bamboo shoots, cilantro, bean sprouts, lettuce leaves, sesame seeds, sesame oil, garlic, ginger, scallions, xanthan gum, fresh lime, and some salt.
You may also get the full recipe here.
This tender Keto Chinese BBQ Pork here is very delicious, easy to make, and with few ingredients only. Surprisingly, it has the same taste or may even be better as the classic one. Yet, this recipe is very low carb and healthier. What you will need are some pork, low carb sweet soy sauce, sesame oil, garlic powder, Chinese five-spice powder, and some red food coloring (optional).
You may also get the full recipe here.
---
Here are 2 of the best keto recipes from Singapore
You'll be happy you'll get to eat these noodles while on Keto diet. This Keto Singapore Noodles is surprisingly tasty and easy to make. To make it, you will need Angel Hair Shirataki Noodles, some bacon, chicken meat, shrimps, garlic, onion, celery, sesame oil, curry powder, sweet soy sauce, some sesame oil, bok choy and bean sprout.
You may also get the full recipe here.
Another popular Singaporean recipe. This Keto Laksa with Chicken and Prawns is definitely flavorful and healthy as well and perfect for your lunch or dinner. What you need to make this recipe is chicken meat, prawns, laksa paste, coconut cream, coconut oil, beans sprout, fish sauce, lime juice, liquid stevia, spiraled zucchinis, coriander leaves, and some onion springs.
You may also get the full recipe here.
---
2 Low Carb Thai recipes are here as well
Another favorite Thai recipe but you are on Low-carb diet? Well, here you have it, the Low-carb Pad Thai Salad. You'll need to have cucumber, carrots, spring onions, some fresh coriander, mint, peanuts, and of course your options of some shredded chicken meats, beef, prawns, or tofu.
You may also get the full recipe here.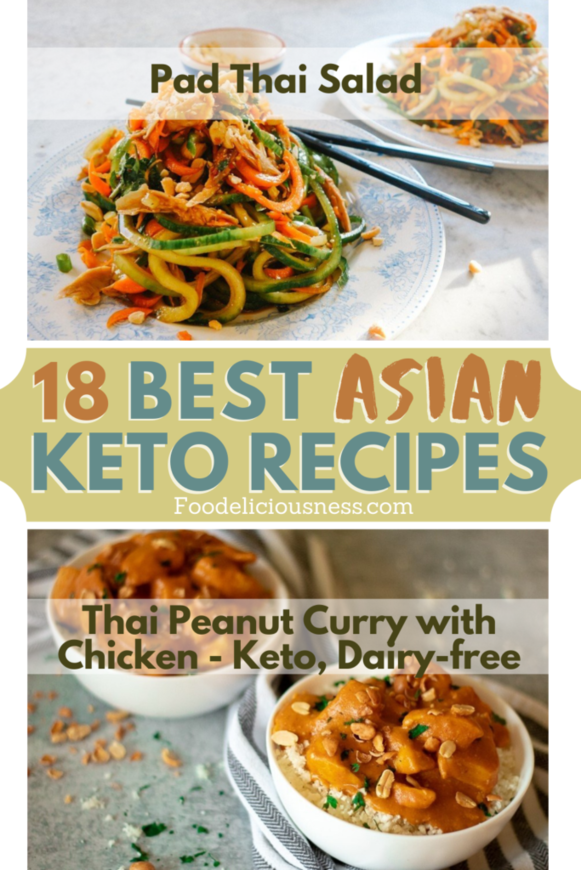 You will love this Thai Peanut Curry with Chicken for its tasty flavor. Furthermore, it is not only Keto but also Dairy-free and very easy to make. Ingredients are not that much. These are some chicken meat, coconut oil, coconut milk, red curry paste, fish sauce, peanut butter, liquid stevia, minced garlic, salt, and pepper.
You may also get the full recipe here.
---
Last but not least are recipes from Vietnam
This Vietnamese Noodle Bowl Salad is one of the popular food in Vietnam. The classic may be high in carbohydrates due to the rice noodles. But the Shirataki noodles have done its job well to make it into low-carb. For this recipe, you will need Shirataki noodles, pork meat, shrimps, mung bean sprouts, peanuts, romaine lettuce, cucumber, and some cilantro.
You may also get the full recipe here.
These delectable Keto Bánh Mì Bowls is another great Vietnamese recipe for being easy to prepare. The ingredients are some chicken meat, tamari, coconut oil, brown erythritol, fish sauce,  lime juice, some red pepper flakes, and onion and garlic powder, cucumber, kimchi, pepper, radish, and lettuce.
You may also get the full recipe here.
Did you find your favorite Asian Keto Recipes? Don't forget to Pin them into your Pinterest board for later. and share these with your friends too.
You may also like