This is a collection of vegetarian meal prep ideas for the entire week! With these recipes, you will make delicious, easy and healthy meals. You can easily make sandwiches and salads for any occasion or prepare food in easy-to-store bowls.
If you want to lose weight or are vegetarian, we suggest these 15 easy and cheap meal prep vegetarian recipes.
These Curry Roasted Vegetable Quinoa Bowls are very easy to make, packed with protein, filled veggies & healthy.
If you don't know what to cook for lunch/dinner these Roasted Vegetable Quinoa Meal Prep Bowls are a perfect choice! This meal is easy to make and packed with healthy vegetables. 
Healthy, fresh, and delicious! This green lentil salad recipe is easy to prepare and ideal for all occasions.
Quinoa Burrito Bowls are vegan, gluten-free, and oil-free. The main ingredients of this recipe are quinoa, seasoned black beans, cherry tomato, pickled jalapenos, and avocado.
Arepa Sandwiches come together in 30 minutes with 10 ingredients.  It includes things like guacamole, sweet roasted plantains, and smoky black beans.
These vegan meatballs are healthy, make the perfect family meal. They're packed with protein, easy to make with ingredients like black beans, breadcrumbs. 
Fresh Spring Rolls are a colorful and delicious vegan meal. They are perfect for a light lunch, dinner or appetizer.
Just 20 minutes for Meal-Prep Vegetarian Quinoa Burrito Bowls. Prep easy and healthy lunch or dinner.
This Chickpea Salad is nutritious and packed with protein. This is a great idea for a school lunch for your kids.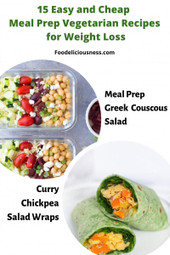 Chickpeas are a good source of plant-based protein and fiber. Easy 10-minute vegetarian meal prep recipe.
Easy made Pasta with a quick homemade arugula pesto tossed with zucchini, green peas, and broccoli.
This recipe will save you time and money too. The main ingredients for this recipe: tofu, sweet peppers and carrots and healthy brown rice in sweet chili sauce.
Make this Grilled Veggie Meal Prep Bowls with black beans and quinoa in 45 minutes and store in the fridge for up to 4 days (serve cold).
Jerk Spiced Crispy Tofu is a meal with sweet and spicy pineapple salsa and grilled broccoli means. It takes about 30 minutes to prepare this meal and is a great lunchtime solution in the office.
Meal Prep Chopped Chickpea Salad is a delicious vegetarian meal. It is made with bulgur wheat, crunchy veggies, feta cheese, and a delicious lemon vinaigrette.
Don't forget to Pin them to your Vegetarian Recipes related Board to save your favorite recipe.
You might like…