If you are looking for Crunchy Keto Snacks Recipes that are easy and healthy to satisfy your cravings, we have them here for you. Definitely crispy and tasty, and will still keep you in your diet. You will surely love these crispy and crunchy keto snacks as they are very easy to do as well. From the simplest single ingredient bacon to a blend of several ingredients, they are certainly satisfying. You can eat them as it is or get your favorite dip. Try them with mayonnaise too. Complete your healthy snacks with some keto drinks as well. These are great to take on the go.
Let's go straight away with the recipes now to fix that craving of yours. And don't forget to Pin them into your Pinterest board for later.
To begin with, this Crispy Almond Crackers with sesame seeds is perfect for your cracker cravings whether you are on keto or paleo need to be gluten-free. You can have some dips with this or have it plain. Other ingredients besides almond flour and sesame seeds are baking soda, an egg, and some salt and pepper.
Get the full recipe here.
Another cracker made of almond flour with chopped walnuts that you will surely love. Other ingredients for this Keto Snack Recipe are flaxseed meal, some olive oil, and salt.
Get the full recipe here.
---
These crispy and crunchy Keto Low Carb Tortilla Chips taste just like the real Tortilla chips. They are great with dippings as well. You will be needing shredded mozzarella cheese, almond flour, some salt and for optional, garlic or onions or paprika can be added.
Get the full recipe here.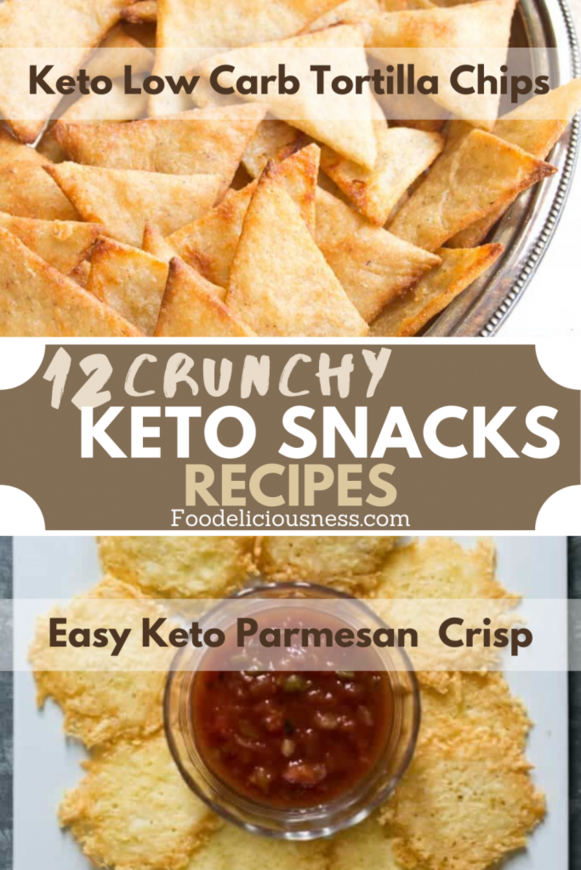 Truly satisfying crispiness and tasty. This Easy Keto Parmesan Crisps can be the perfect low carb cheese crisp. And all you need for this Keto Snack recipe ingredient is Parmesan Cheese. Try this healthy, crunchy keto snack and see how amazingly easy this is to make.
Get the full recipe here.
---
If you are missing out cereal, this Keto Cinnamon Toast Crunch Cereal is your perfect option if you are on a keto diet. It is crispy, crunchy, sugar-free, gluten-free, grain-free and insanely delicious. What more can you ask for? You will be needing some almond flour, flaxseed meal, psyllium husk, your sugar substitute like Lakanto, cinnamon powder, xanthan gum and a couple of eggs.
Get the full recipe here.
Another option for your cereal craving, this Keto Cacao Coconut Granola is a crunchy snack that is tasty, healthy and easy to make. The ingredients you need for this crunchy keto snack recipe are chopped raw pecans, almond meal, flaxseed, unsweetened dried coconut, cacao nibs, chopped raw walnuts, sesame seeds, some cinnamon powder and erythritol for sweetener.
Get the full recipe here.
---
If you are craving for a crispy pizza snacks Keto Piza Chips is the one you are looking for. Definitely perfect for parties as well and won't hurt your diet. All you need for this crunchy keto snack are some grated parmesan cheese, dried oregano, pepperoni slices, and a simple pizza sauce.
Get the full recipe here.
Absolutely much healthier version of nacho cheese snack. These Keto Nacho Cheese Crisps are a low-carb, gluten-free and heavenly tasty and crispy as well. Moreover, they are very easy to make with only 8 minutes to bake. These crunchy keto snacks will only need some jack or cheddar cheese or both, parmesan cheese, chili, and garlic powder, smoked paprika, some sea salt, and tomato powder.
Get the full recipe here.
---
Here is an insanely easy and crunchy keto snack with 0 carb. And it's no other than the Keto Pepperoni Chips with an ingredient of just thinly sliced pepperoni. You'll never go wrong with this one.
Get the full recipe here.

Here is another single ingredient crispy snack, healthy and easy to make Oven-Baked Zucchini Chips. And so, zucchini is not just for a noodle alternative anymore but another delicious, crunchy snack.
Get the full recipe here.
---
When you are on a Ketogenic diet, most probably you knew cloud bread or have tried it already. Surely you have appreciated this delicious carbless fluffy bread. But there is a crunchy version and you will love this as well. This very easy and simple Low Carb Cloud Bread Chips is as tasty as its fluffy version. And the ingredients that you are going to need are some Eggwhites, shredded cheddar cheese, and some water.
Get the full recipe here.
For bacon lovers out there, here is the Crispiest Easy Air Fryer Bacon for you. Perfect for Keto, Gluten-free, Paleo, and Weight Watchers with 6 Freestyle Smartpoint. With your choice of bacon and an air fryer will give you the crispiest bacon chips.
Get the full recipe here.
I hope you enjoyed these Crunchy Keto Snack Recipes. Which one became your favorite? Check out our top keto gas station snacks.
---
You may also like