Got an Instant Pot? To a lot of people, the instant pot is already a common household – a must-have in the kitchen. You have landed on the right page as you can find here 10 Instant Pot Tips and Tricks, and even Instant Pot Hacks for Cooking with Pleasure. 
But I also don't want to leave some of those who may have just heard it but have little to no idea what is it or how to use it. This is the right place for you as well.
To begin with, Instant Pot is a versatile kitchen gadget, a multi-use appliance that can do the job of a pressure cooker, a slow cooker, saute pan, steamer, oven, bread maker, and even as a yogurt maker and more depending on the model, size and type. And that can also save you space, and over the long term, money. And moreover, your food will be tastier.
Here are what you should know, or learn new Instant Pot tips and tricks and useful hacks as well:
You may have known a lot of cooking and baking but with the Instant Pot, it is quite different. Indeed, you can find a lot of nice recipes from the internet, cookbooks or even from your friends. But you also want to cook your own favorite recipes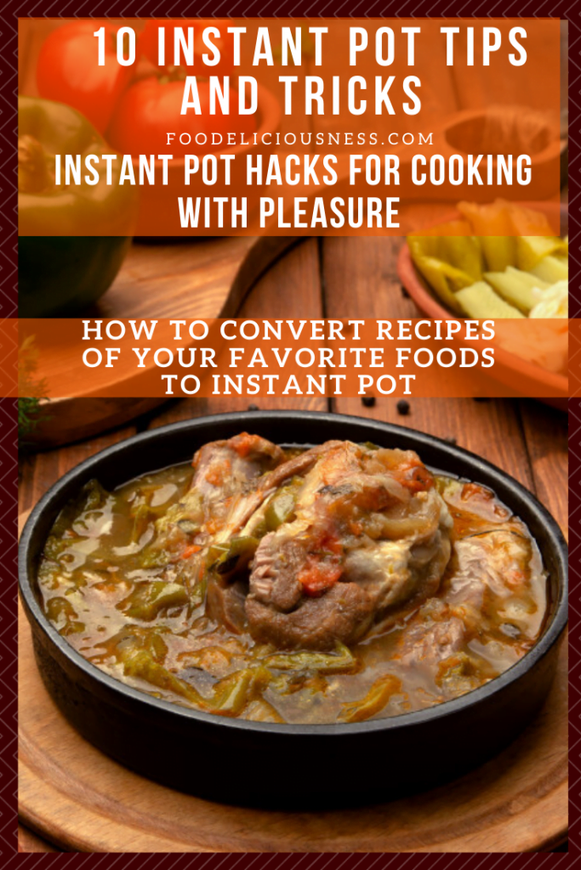 More details on How to Convert Recipes to Instant Pot from My Crazy Good Life,
---
Certainly, the appliances come with inner pots but that does not prevent you from applying other suitable containers. It can be oven-safe glass containers, steaming racks, and silicone molds. Of course, this is what you call the Pot-In-Pot method and you can save a lot of time.
More details about Pot in a Pot Method from Once a Month Meals.
To avoid errors in your instant pot mode selection and time settings, use a kind of cheat sheet, which is a cooker time chart. Place it somewhere near your pressure cooker and keep calm for your everyday meals.
Get The Most Useful Instant Pot Cheat Sheet On the Web Just Got Better from One Good Thing by Jillee.
---
If you want your meal to be cooked properly and taste even better, feel free to use the various buttons during the cooking process. Sch as the saute mode for onions and vegetables and then go to slow pressure. That's what your inner pot got so many functions for!
More details for Instant Pot Hacks from Business Insider
Indeed it's a great time-saver when you slice all the ingredients needed, put in an inner pot and freeze them. When it's time to cook, just bring the container out and cook it and there's no need to thaw them. Truly it is fast and convenient. 
More details on Instant Pot Tricks and Treats from Once a Month Meals.
---
There are different pressure cooker mode of how you cook the food. But it also doesn't mean that you have to always follow it. Different modes may be good for baking bread, pies, and many more useful things. An example is the recipe of this insanely delicious cinnamon walnut sweet potato bread.
Recipe for Instant Pot Paleo Cinnamon Walnut Sweet Potato Bread from Nurture My Gut.
Do you know that your device is not only good at cooking but also can do a lot of other things? Grape wine, vanilla extract, herbal remedies, cough syrup, as well as chapstick, crayons and even dyed Easter eggs – that is just a few things that your instant pot is capable of!
More details for Instant Pot Silk Dyed Eggs from Ginger Casa
---
If you want to enjoy both the delicious food and the cooking process itself, don't forget some little handy assistants. It can be an extra inner pot glass cover, sealing rings, microfiber towels, some sets including egg bites mold vegetable basket rack and oven mitts, retriever tongs, and other accessories that will turn you into a master chef!
Check your Must-Have Instant Pot Accessories from Recipes from a Pantry
You may wash some parts of the device including the inner pot and steam rack in your dishwasher. But you can use simple home remedies to remove stains and odor – such as water with lemon or baking soda. Make sure they are really safe for your multi-cooker.
More Details about How to Remove Oder from Instant Pot from My Crazy Good Life.
---
10. Your Pressure Cooker is Convenient but not Almighty
Truly it may seem that your Instant Pot works wonders because it can do a lot of things, nevertheless, don't forget that it has flows as well. For example, be careful with dairy products, as most of the instant pots don't cook cheese and cream sauces in a proper way. You'd better add dairy after the cooking process to get the sauce with a delicate. Read the manual as there are warnings and reminders written there. 
Did you learn something new on Instant Pot tips and tricks?
Enjoy your cooking with your Instant Pot! And don't forget to save this Pin to your Instant Pot board on Pinterest.
---
You may also like