Fall is best reflected in the colors of the leaves. Various colors like yellow, brown and red make fall a beautiful sight. If you are having a party in the fall and are looking for an idea for decoration, we have some great suggestions for you. Whether the party is indoors or outdoors, with the help of these decorations you will make everyone feel comfortable, both adults and children.
Why not give the autumn colors some flavor? Have fun with these 10 phenomenal fall party ideas for kids and for adults!
If you looking for a simple way to make your home feel a little bit more like Fall, the dining room table is the perfect place to start incorporating some fall table decorations.
Candles hidden in apples is an idea you should not miss, it's very romantic and at the same time bright.
These leaves are so shimmery. They are easy to make and will add a little sparkle to your home for the fall months.
True fall glamour looks like these charming white vegetables with elegant copper-metal inscriptions. Take a look and you won't resist them.
If your birthday is in the fall here's a great idea to celebrate it. Chili bar is neat, compact and everybody will love this idea.
This cozy Fall Harvest Cheese Board is a crazy and colorful board. You will need delicious Castello cheese, charcuterie, nuts, bread, and crackers.
If you don't like the idea of caramel apples then use slices instead of whole apples. You will love this treat with marshmallows, chocolate, peanuts, coconut, and caramel.
Warming and flavored hot chocolate is perfect for fall too, not just winter. You can use glass jars for marshmallows, white chocolate chips, caramel bits, and other sweet toppings. This is a great idea for cozy family meetings.
These pies are a charming, easy, and elegant supply of dessert. Mini pies and wooden forks are wrapped up using strips of flannel fabric.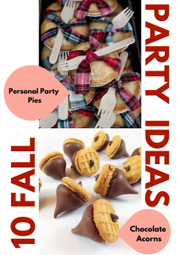 Peanut Butter & Chocolate Acorns are the combinations of crumbly cookies, delicate filling, and chocolate. They are the perfect little DIY craft. For kids and adults, super easy and super cute.
You might like…